Bridge Inspections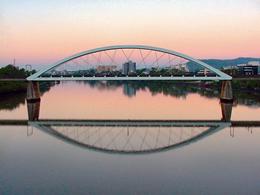 Routine Maintenance Inspection (Level 1) - a visual inspection to check the overall serviceability of the structure and identify maintenance issues.
Detailed component Condition Inspection (Level 2) - consists of a detailed report outlining the condition state of every structural component.
Detailed Structural Engineering and Material Inspection (Level 3) - analytical analysis of a structure with suitable defect identification and investigation.
Training
We offer workshops on Bridge Inspection throughout the year. Check our Events Calendar.
Bridge Management
ARRB can provide a range of services to address the management of structural infrastructure assets including:
development of rehabilitation and maintenance strategies
bridge maintenance prioritisation
economic evaluation of bridge rehabilitation treatments with NPV and B/C calculations
bridge asset valuations
training in the preparation of a bridge works program
development of bridge management systems
advice on bridge management systems
development of analysis modules for bridge management systems.