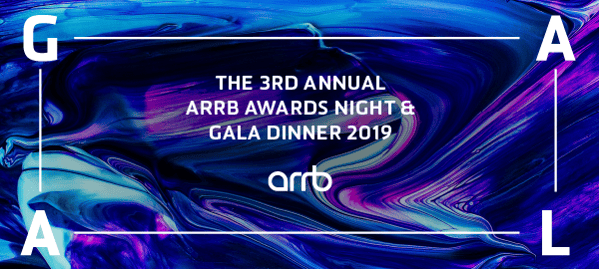 Join us for a spectacular evening at the 3rd annual ARRB Awards & Gala Dinner.
Explore the horizon with us in a grandiose night filled with prestige as we take you on a journey to our transport future.

The evening will pay tribute to the stars of our roads and transport industry, and road research excellence on both a national and global platform.
The National Transport Research Organisation's ambitious mission is to 'shape our transport future'. Join us as we recognise and celebrate everything that is happening in our industry, today

Researchers, practitioners and their partners are warmly invited to celebrate nominated industry colleagues in six different categories:
The Awards

1. Knowledge Transfer Commitment Award
2. Research Impact Award
3. Implementing Agency Applied Research Award
4. New Research Talent Award
5. Lifetime Research, Development and Implementation Award
6. NRSPP React Award


Nominations
Winning an ARRB Award reflects talent across the transport industry and leadership in shaping our transport future.
Coming soon.
Get involved
Did you know that sponsorship opportunities exist for this very special event, as well as for each award category? Would you be excited to see your company's name in the spotlight, with exclusive signage rights and your brand getting the recognition it deserves? With an anticipated 200 guests in attendance, this is a marketing opportunity like no other.
For further information contact Niva Thongkham:
0448 097 660
Sign me up!
Click below for more information and to register your interest: