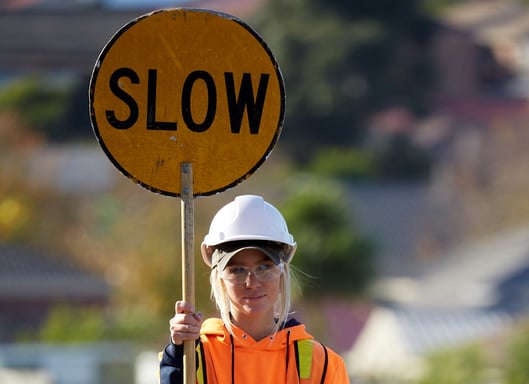 SUCCESSFUL WORKSITE TRAFFIC MANAGEMENT ON MAJOR ROAD PROJECTS
Course Aim
The aim of this course is to provide participants with knowledge of the roles, responsibilities, and accountabilities of stakeholders in order to improve the planning, communication and management of disruptions caused by projects works. The course provides best practice and up to date advice on relevant legislation.
Topic Areas
Module 1: Why Your Role Is Important To Successful Outcomes - covers:
The Who - Roles of the parties involved in traffic management

The What - Objectives of planning, responsibilities for each role

The Why - Relevant legislation and guidance, community experience, and real-world examples
Module 2: Trust In The Process - covers:
The How - Processes you must follow

The When - Lead times for successful planning and communication

Ongoing - Monitoring, feedback loops and change management
Workshop Information

Time: 8.30am - 5pm
Duration: 8.5hrs
Cost: $450 (exc GST)
Workshop Dates and Location

Workshop Date: 26th October
Location: MRPV Geelong, Hedley Room, 230-242 Colac Road, Geelong
Workshop Date: 22nd November
Location: Dandenong - Venue TBC
Workshop Date: 1st December
Location: MRPV Essendon Fields, Beaufort Room, Bldg 83, 3 Bristol Street, Essendon
You can choose your workshop option when registering.
Who Is This For?

The MRPV Technical Training Program is targeted at new and existing workforce from industry and MTIA who have some general knowledge and awareness of construction works required to carry out specific tasks relating to civil construction.

Project managers

Graduate, site, project and senior engineers

Site construction managers

Site supervisors/site foremen

Leading hands

Safety supervisors

Quality managers/engineers

Surveillance cadets/officers/managers
Some courses are also relevant to:
Traffic managers/engineers

Community stakeholder and engagement specialists
*Dates and prices are subject to change.
Email: MRPV-TechnicalTraining@roadprojects.vic.gov.au
Website: roadprojects.vic.gov.au/technicaltraining