On the evening of the 21st July 2017, the Inaugural ARRB Gala Dinner and Awards Night took place at a beautifully presented space within the Sea Life Melbourne Aquarium.
It was pleasing to see nearly 200 guests from industry, academia, media, as well as several VIP guests - all eager to hear the announcement of the 2017 award winners.
The organisers wish to thank Roads Australia and IPC Global for their sponsorship of the event, Roads & Civil Works for their participation as media partner and the many special guests, including:
Dr Amanda Caples, Lead Scientist of Victoria and Guest Speaker for the evening

Mr Peter Duncan, Chair of the ARRB Board of Directors

Mr Neil Scales, Director General, Transport and Main Roads (TMR) Qld, and member of the ARRB Board

Ms Ann Turner, also of the ARRB Board of Directors

Mr Ian Webb, Chief Executive, Roads Australia

Mr Peter Todd, Deputy Chief Executive, VicRoads

Mr Chris Koniditsiotis, Chief Executive, Transport Certification Australia

Mr Carlos Rial, Chief Executive, Australian Asphalt Pavement Association

Michael Dobbie from the office of the Honourable Darren Chester MP – Federal Minister for Infrastructure and Transport

Ms Madeleine McManus, OAM, Monash University
The first two awards to be presented were the Australian and New Zealand Driverless Vehicle Initiative (ADVI) – State Innovation Award for Victoria, followed by the National Road Safety Partnership Program (NRSPP) sponsored award, based on the Re:act campaign.
The ADVI award recognises an organisation that has initiated, developed or delivered a new and innovative piece of research, product, program, service, legislation, business model or other innovation or achievement that has, or will play a key role in accelerating the safe and successful introduction of driverless vehicles on Australian roads. This year's proud winner was named Bosch.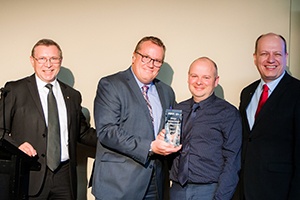 Peter Kasprzak - Chief Executive of Innovate Australia, Bosch representatives, Peter Damen - ADVI Executive Committee Chair
The winner of this award, Lucy Boehme, took the audience through her campaign as well as the inspiration behind it and its progress over the past month.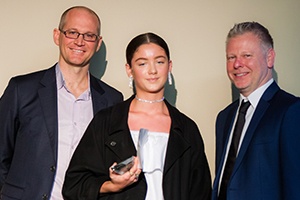 Jerome Carslake - Manager of the NRSPP, Lucy Boehme, Andrew Hardwick - Chief Executive of Hard Edge Media
Afterwards, the much anticipated ARRB Awards component of the evening took place. For this, the organisers wish to thank the guest judges who they believe had the most difficult job of all: Ms Julie Mitchell Chief Engineer at TMR Queensland, Ms Mary Lydon Chief Scientific Adviser at ARRB, Mr Dave Jones, Manager Roads and Traffic at RACV and Dr Mike Shackleton Acting Chief Research Officer at ARRB.
Winners
The winners are:
Knowledge Transfer Commitment Award
Paul Hillier, National Technical Leader (Incident Investigations & Reviews) at ARRB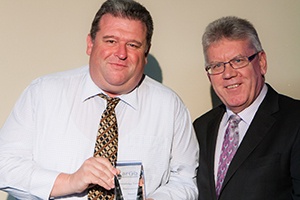 Paul Hillier and Neil Scales - Director-General at Queensland Department of Transport and Main Roads
Implementing Agency Applied Research Award
(Joint 1st place)
Simon Harrison
(TMR Queensland) for the High Risk Roads process, initiated by TMR Queensland
Gerhard van Blerk (New Zealand Transport Agency - NZTA) for the 'Hi-Lab" construction technique, initiated by NZTA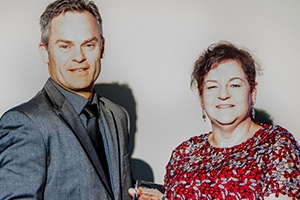 Gerhard van Blerk andAnn Turner - ARRB Board member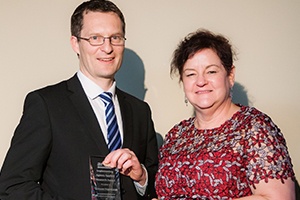 Simon Harris and Ann Turner - ARRB Board member
New Research Talent (Female)
Melissa Dias, Pavement & Surfacings Engineer at ARRB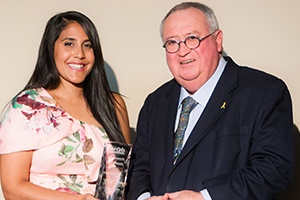 Melissa Dias and Ian Webb - Chief Executive of Roads Australia
New Research Talent (Male)
Arooran Sounthararajah, PhD Candidate at Monash University - Dept of Civil Engineering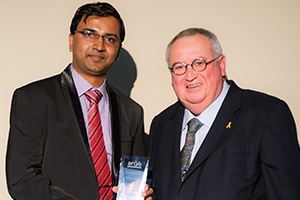 Arooran Sounthararajah and Ian Webb - Chief Executive of Roads Australia
Research Impact Award
Professor Graham Currie & Dr Alexa Delbosc (Monash Institute of Transport Studies) for 'A Global Shift in Public Transport Revenue Compliance Using Cross Disciplinary Research in engineering, Psychology and Operations'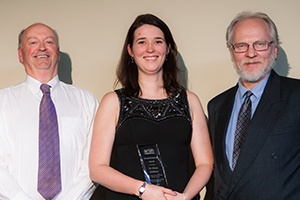 Professor Graham Currie & Dr Alexa Delbosc with Steve King of IPC Global
Lifetime Research, Development & Implementation Award
Dr Ahmad Shayan, Chief Research Scientist (Concrete Materials) at ARRB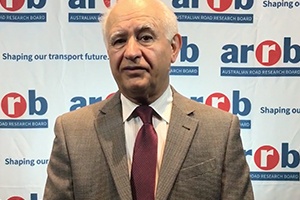 Dr Ahmad Shayan
Congratulations to each and every award winner and finalist for their significant contributions towards the roads and transport sector. It is hoped that this Awards Night is the beginning of a longstanding tradition of recognising and celebrating colleagues and peers in this industry.
More photos from the event can be viewed via the photo gallery.
2018 Nominations
Nominations for the 2018 Awards will be open shortly, so please do watch this space or contact
to enquire now.