This month we're giving you an insight into what life at ARRB is like.
We will be covering the stories of several ARRB employees in the different Strategic Working Groups. Next up, we have Paul Van Damme from our Road Asset Performance team.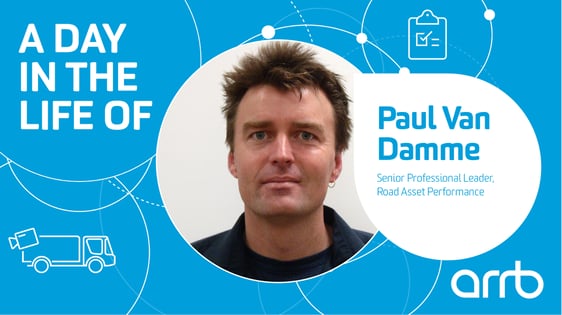 What does a day in your life look like?
My day starts out in the South Eastern suburbs with a drive or motorcycle ride up the Monash Freeway to ARRB. I was fortunate enough to work in the office all through the Melbourne lockdown, so I got used to empty winter roads, but now the traffic is getting heavier every day.
My main role at ARRB is to make sure we have the staff and vehicles available for the survey work that we have won. I am the responsible for 18 fieldstaff and I also help with the training and maintenance of the ARRB survey fleet. I spent over 20 years on the road surveying for ARRB and have driven over a million kilometres in that time, so I try to make sure that the fieldstaff out on the road feel supported in the work they are doing. Many of them will spend over 150 days a year away from home and it becomes harder if you do not feel supported in the work you are undertaking.
Recently, COVID is my main concern as the rules can change daily regarding crossing state borders in Australia. We have 10 field staff in QLQ, four in Vic, two in NSW and two in WA and the work is all over Australia. We need to understand who can get to which state and back home again without having to spend time in quarantine or isolation. A vehicle in Brisbane may be required to be brought to Gosford in NSW for validation runs and then to Melbourne for a survey which could require changing three different drivers if the borders are closed. We then need to use a tow truck to physically carry the vehicle across the border. This is the extreme example and we have become better at navigating these challenges.
I spend a lot of time on the phone talking to the fieldstaff and managers. Sometimes it is answering technical questions about equipment or procedures if people are having problems in the field. Sometimes it is questions about scheduling and bids that the development team are tendering for. Sometimes I might check in with someone to give them information about upcoming work and see how they are travelling that day if I have not spoken to them for a while. I aim to speak to each field staff at least once during the week to keep them informed on what is happening and what they will be asked to do in the upcoming weeks.
I try to keep the schedule up to date so staff can see what we are planning to do over the next 3 - 6 weeks, but lately we have had to be fluid in our approach while the rules around state borders keep changing.
It helps if I know which vehicles are in which condition and where they are next required to be sent for work. We have over 15 survey vehicles, not including FWD (Falling Weight Deflectometer) trailers and each of them has slightly different equipment and skill sets required to operate them. Our iPAVEs and iSSAVe require staff who have truck licenses, the iSSAVe will also consume 3 tonnes of water every hour while testing so will need to be refilled possibly twice in a day and most of our survey vehicles are larger, heavier, and more expensive than every other vehicle on the road. It takes a lot to build one of our vehicles, so we often keep them for long periods of time. Many of them will cover half a million kilometres before they retire.
Some days I may be able to go back out on the road for a few hours to help with vehicle calibration or testing after repairs have been done. I still enjoy surveying, but I realise that I am more valuable if I am in the office helping others to get their work done rather than out on the road myself.
What made you decide to get into your field?
I fell into this job through a friend from university. He was doing graduate work for ARRB and he told me there was a job opening. It was meant to be a temporary thing, but I ended up loving the work and realised it was a great way to see a lot of Australia.
What are your favourite and least favourite parts of your job?
The view from my office used to change every day and I always liked the travelling. The least favourite part was the stress that travelling put on relationships. Being away for three weeks every month for most of the year took its toll and I chose to give that life away because there are things that are more important.
Name a career highlight of yours
I worked in Indonesia for ARMS-ARRB (2000-2001) for two years. I had never left Australia before then and I came back after two years with another language and a bigger sense of the world around me.
What advice would you give for someone wanting to work in the industry?
The job you start with may look nothing like the job you end up with while working for ARRB. It has many opportunities if you are willing to give it your best every time.
Read about the lives of other ARRB staff here: