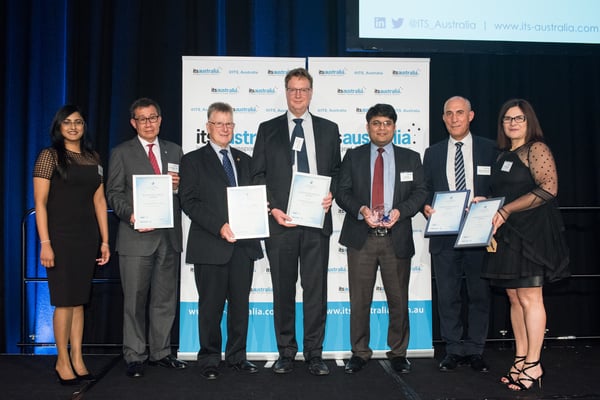 ARRB took home the Automated Vehicle Award at last week's Intelligent Transport Systems (ITS) Australia National Awards.
Your National Transport Research Organisation won the award for its involvement with The Autonobus Pilot Project together with the Centre for Technology Infusion, La Trobe University.
ARRB was a proud supporter along with Keolis Downer, HMI Technologies, RACV and VicRoads.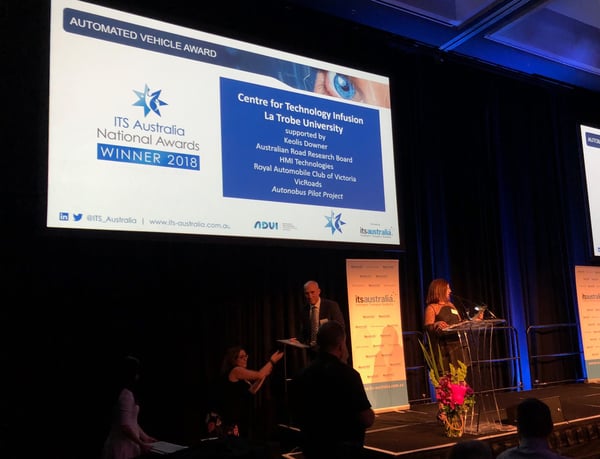 The ITS awards recognise professional ITS expertise and raise awareness across all levels of government and community about the benefits of ITS technology to cities and communities, the economy, environment, transportation, and everyday lives.
With the aim of bringing autonomous shuttles a step closer to reality in Victoria, ARRB supported the Autonobus Pilot Project Level 4 Automated Shuttle Trial. An automated shuttle was tested in the real life and busy campus environment of La Trobe University as an actual use case of first and last mile connectivity. The project demonstrated that standards of safety, technical, operational, and community acceptance can be met for successful and future deployment in similar environments.
The award was sponsored by the Australia and New Zealand Driverless Vehicle Initiative (ADVI) and Dr Charles Karl, Principal Technology Leader, Future Transport Technology, accepted the award from Rita Excell, ADVI Executive Director, on ARRB's behalf.
"The Autonobus trial along Science Drive to the bus transit station at La Trobe University was a real life trial of a low speed shuttle bus in quite a complex environment with speed bumps, a roundabout, pedestrian crossings, cyclists, buses, service vehicles and even ducks within the heart of the campus.
There was a lot of excitement when the Autonobus first appeared on Science Drive in late 2017 for its set up and testing and by the time we operated the trials in April/May 2018, it had become well accepted as another part of the transport mobility ecosystem in this environment.
The findings were positive, you can read them in the final report, and our partners can now plan for further deployments based on the learnings of this pilot." said Dr Karl.
You can read more about the the project here.