ARRB is proud of its collaborative relationship with the Institute of Public Works Engineering Australia (IPWEA), and this was on display at the 2019 International Public Works Conference in Hobart in August.
The conference theme: Vibrant futures - Solid foundations - resonated particularly with ARRB, with the organisation's rejuvenation over the years and the focus on a positive transport future.
"Very pleased to have strong ARRB presence and support at IPWEA International Conference in Hobart," said Rita Excell, Vice President of IPWEA
ARRB was grateful to be acknowledged in the opening ceremony as a sponsor and also exhibited at the well-attended event. There was much interest in what was being discussed at the booth with Smart Pavements Now, ARRB workshops and particularly the Best Practice Guides workshop on display.
The four best practice guides were particularly of interest with the focus being to expand local government's understanding and capacity to safely manage their road infrastructure.
"The mobility solutions of the future will require different skills, technologies and ideas – and better collaboration. I see the relationship with IPWEA as vital to enable local government to improve the quality of their roads for the local community," ARRB chief executive officer Michael Caltabiano said.
The Australian Road Research Board was well represented on the Tuesday with an entire stream dedicated to the ARRB thought leaders.
Our Chief Operating Officer, Adjunct Professor Dr Richard Yeo, opened the session with David McTiernan, National Leader Transport Safety, provoking interest with a presentation and panel around the priorities of Local Government for Road Safety and what is needed to help unlock their potential road infrastructure.
Anthony Germanchev, Principal Professional Leader, Advanced Technology Lab, shared the highlights from the recent launch of the National Transport Performance Centre by Federal Minister Alan Tudge. Anthony explained how local government can benefit from the NTPC which combines new data and existing expertise to better understand the performance of their roads.
Dr Didier Bodin, Principal Professional Leader, Future Transport Infrastructure, presented on recent developments in pavement technology. Laboratory and full-scale accelerated pavement performance evaluation is underway to validate the best use of cost-effective pavement treatments and improve the design procedures.
The new performance-based specifications and test methods provide the perfect means of benchmarking marginal or recycled pavement materials as well as developing new bituminous binders in the future.
Melissa Lyons, Senior Professional Leader, Sustainability and Resilience, filled the room with an engaging discussion on sustainable road materials indicating local governments are engaged with reusing and repurposing waste streams.
The last session was an extension of the local government best practice guides workshops. Samantha Taylor, National Partnerships Leader, and Melissa Lyons had significant engagement with participants and gathered important feedback to ensure the guides are relevant and focussed for local government.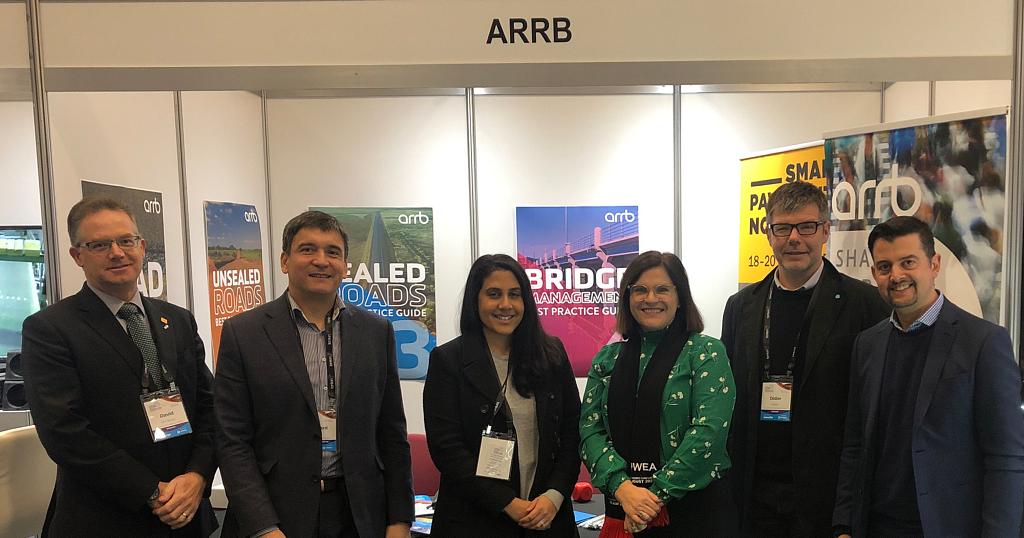 Pictured: The ARRB team at the IPWEA International Conference in Hobart.