The Transportation Research Board 97th Annual Meeting (TRB) was held at the Walter E. Washington Convention Center in Washington DC during the 7 – 11 January. The jam-packed program included more than 5000 presentations, 800 sessions and 500 committee and subcommittee meetings.
This year's theme was 'Transportation: Moving the Economy of the Future.'
Mr Richard Wix, Principal Professional, Strategic Enablers Group, and Mr William Hore-Lacy, Senior Professional, Next Generation Asset Management, were both in attendance representing ARRB.
Mr Wix was invited to give two presentations:
'Implementation of the iPAVe in Australia and New Zealand and the role it is playing in the decision-making process.'
This presentation was a part of the Next Generations Pavement Management Systems: Incorporating Network-Level Structural Capacity Leading Indicators Workshop and focused on the benefits of collecting functional and structural data in a single pass and how this data is being used in Australia and New Zealand to make better informed maintenance decisions.
'Asset management in Australian low-density areas.'
This presentation was given during the session entitled Integration of Low-Density Areas in Larger Metropolitan Regions' Mobility Plans and highlighted the challenges faced managing and maintaining a large road network in a country with a low population density and how next generation asset management tools can be used to help alleviate this problem.

During TRB, ARRB signed a Memorandum of Understanding (MOU) for strategic cooperation with the Jiangsu SinoRoad Engineering Research Institute which you can read more about here.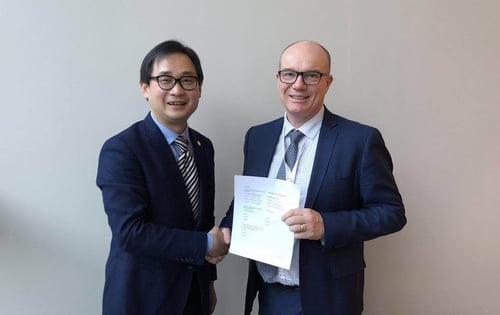 Mr Richard Wix from the Australian Road Research Board with Dr Zhang Zhixiang from Jiangsu SinoRoad Engineering Research Institute at the signing of the MoU in Washington.
ARRB also participated in the 8th Deflection at Road Traffic Speed (DaRTS8) meeting. ARRB is a regular attendee at this meeting which allows road agencies, vendors and research organisations from around the world to share their experiences in assessing network level strength data using traffic speed devices like the intelligent pavement evaluation vehicle (iPAVe).
ARRB also participated in the Accelerated Pavement Testing (AFD40) meeting which provided a snapshot of the current APT testing around the world.
"We attended numerous committee meetings dealing with pavement and asset management, surface properties, structural modelling and evaluation." Says Mr Wix. "It was also an excellent mentoring opportunity for one of ARRB's younger generation research leaders who was able to shadow a senior staff member." He went on to say.
"It was great to attend some targeted sessions pertinent to ARRB's core activities and specialist areas." Said Mr Hore-Lacy. "Data was a hot topic for the conference with standing room only in many of the 'big data' sessions."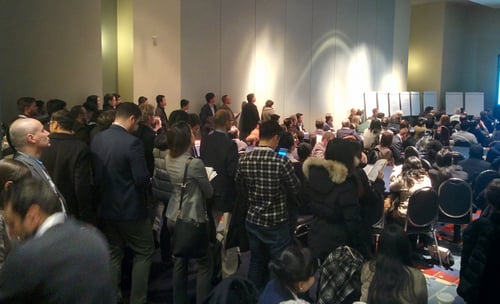 Standing room only in the sessions with hot topics.
TRB attracts more than 13,000 transportation professionals from around the world including policy makers, administrators, practitioners, researchers, and representatives of government, industry, and academic institutions. It is the largest global gathering of transportation professionals and researchers, with a focus on innovative solutions for all modes of transportation.]
Next year's Annual Meeting will also take place in Washington DC during January 13-17, 2019.