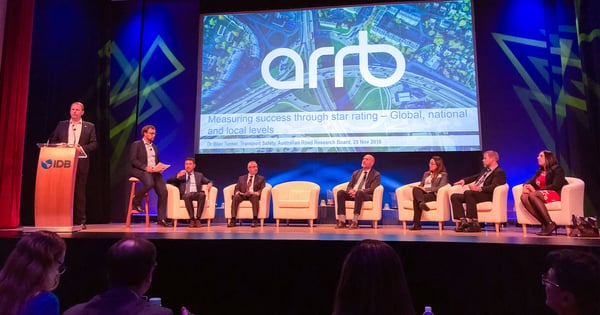 ARRB recently went to the capital of the free world to present its vision for better world road safety.
Dr Blair Turner, Principal Technology Leader, Transport Safety at ARRB recently attended and presented at the Vision Zero & Innovation Workshop, 2018 held at the Inter-American Development Bank in Washington, DC.
The event was organised by iRAP and your National Transport Research Organisation is very pleased to be working closely with them in order to improve safety on the world's roads.
Over 100 delegates were present for Dr Turner's presentation, titled "Measuring success through star rating – Global, national and local levels", where he covered how to set targets and track your performance to achieve better road safety outcomes.
The iRAP Global Technical Committee meeting was held the day before the workshop at the Transportation Research Board: National Academies of Sciences in Washington. Attendees were greeted by Neil Pedersen, Executive Director of the Transportation Research Board (TRB).
Dr Turner also attended a number of meetings with the World Bank and he presented to the Federal Highway Administration's (FHWA) road safety team on recent Australian initiatives on road safety.
Dr Turner also took part in many productive discussions, including with Uber and Google to discuss potential collaboration opportunities.
"It's wonderful to meet with other international road safety experts around the world to share ideas. It's a great opportunity to understand recent global activity around road safety and find ways that ARRB can contribute." said Dr Turner.

Our FREE INTRO to our new Star Rating Essentials Webinar Series with iRAP starts today (Tuesday 4 December 2018).
The first installment is FREE and starts at 6PM AEDT TONIGHT!
For more information and to register click here.