The Australian Road Research Board (ARRB) is managing a new trial of traffic light technology to help Melbourne's trams and traffic run smoother.
The trial involves GPS technology tracking the position of a tram and taking into account live road conditions in determining traffic light activity. It means priority will be given to whoever needs it most, whether that's a tram approaching the intersection or drivers, pedestrians and cyclists.
Currently, detectors in the pavement detect trams when they arrive at an intersection and the trams are automatically given priority in light sequencing.
Under this trial, if a tram is delayed or running behind schedule, it'll be given priority at traffic lights. However, if a tram is running on time or ahead of schedule, the tram won't be given priority – meaning other road users won't be stopped to make way for a tram that's already running on time.
The trial aims at improving congestion for road users and making tram rides more reliable for passengers.
ARRB has been commissioned by VicRoads through the Victorian Government's Smarter Journeys program to co-ordinate the trial, working alongside Public Transport Victoria, Yarra Trams and La Trobe University.
The trial has been rolled out on just one tram route to start with – Route 75 from Docklands to Vermont South - which will have 25 trams fitted with the Cooperative Intelligent Transport System (C-ITS) technology.
The system will connect with VicRoads' existing road management system, while also providing a link into Yarra Trams' operations centre.
The tram line for the trial runs down regular Melbourne congestion hotspots Toorak Road and Burwood Highway.
Victorian Minister for Roads Jaala Pulford (pictured below) says the Andrews Government is committed to making roads and public transport safer and easier to use for all Victorians.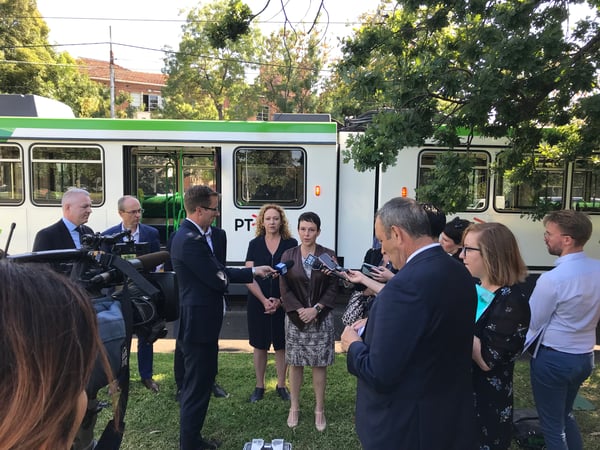 "Improving the flow of trams at intersections will make services more reliable and reduce congestion on our roads – helping everyone to get where they need to go sooner," she says.
The trial has two phases.
Phase one will involve testing the technology against the tram schedule to see whether the technology works in the field and whether it implements priority in an efficient manner.
Phase two of the trial will examine a free running option – not adhering to a tram schedule – to confirm if the technology can be used to provide faster travel times along the route in a balanced manner.
Once the trial is complete, ARRB will report back to VicRoads with detailed findings so it can be determined whether it's an effective solution to be rolled out more broadly across Melbourne's tram network.
"We're really excited to see how this technology performs in a real-life, operational setting and whether it could be rolled out more broadly to improve travel times and overall network performance," VicRoads Director Network Performance and Improvement Brian Fletcher says.
ARRB, which has its head office based in Melbourne, has previously worked with the Victorian Government, VicRoads and La Trobe University on a trial of connected and automated vehicles on Melbourne's EastLink tollway and welcomes the newest collaboration.
"This is a great collaborative effort where ARRB is working with VicRoads, La Trobe University, Yarra Trams and others to see if communication technology can be used to deliver a smarter, more efficient active traffic signal priority system for Melbourne's trams," says ARRB's David Green, Senior Professional Leader, Future Transport Technology.
Read the Victorian Government Media Release here