Last week ARRB staff came together to celebrate the winners of the 2018 ARRB Values Awards and recipients of the ARRB Long Service Awards for their outstanding contributions to your National Transport Research Organisation over the years.
ARRB CEO, Michael Caltabiano, opened the awards ceremony with a welcome speech where he outlined ARRB's successes and highlights for the year.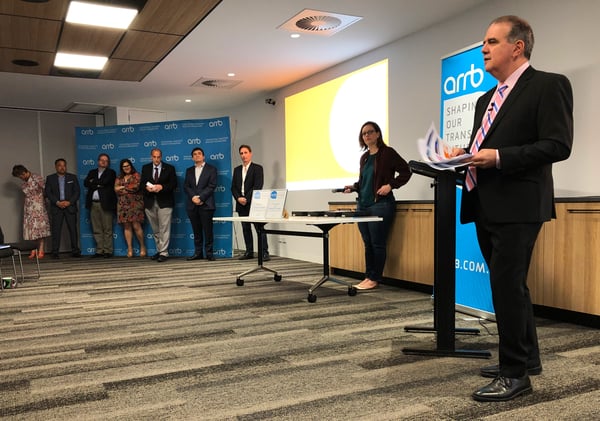 Kate Thomson, Chief Financial Officer, presented the awards to the recipients for their 10 years of service.
Congratulations to:
Noha Elazar
Clint Bradley
Joel Bradley
David Milling
Anna Brett
Lisa Butcher
Kok Yip
Ian Espada
Bryce Dean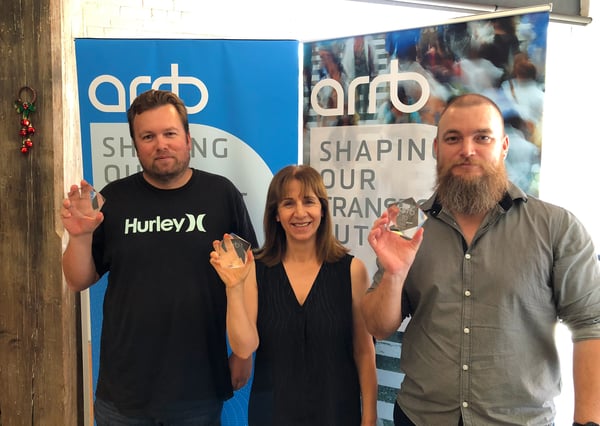 Our 10 year award recipients from NSW.
From left: Joel Bradley, Noha Elazar and Clint Bradley
The 15 years of service awards were presented by, Chief Research Officer, Mike Shackleton.
Congratulations to:
Bob Andrews
Chris Triplow
Mike Shackleton and Richard Wix, Principal Professional Leader of the Strategic Enablers Group, presented the 20 year awards.
Congratulations to:
Dao Tran
Leigh Hughes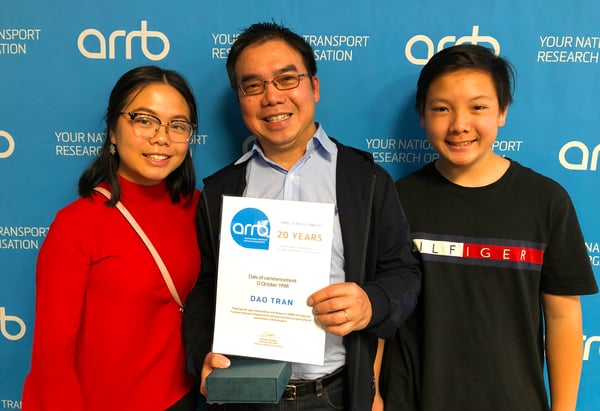 Dao Tran with his award next to his two proud children.
Finally, the 30 and 35 year awards were presented by Chief Operating Officer, Richard Yeo.
Congratulations to:
John Catchpole
Jim Johnson-Clarke
Following the ARRB Long Service Awards, Michael Caltabiano returned to the stage to present the ARRB Values Awards.

ARRB's core values are:
Transformative
Change enlivens us; we are continuously looking to improve the world around us, moving forward and innovating. The mobility solutions of the future will require adaptable skills, technologies and ideas.

Collaborative
Collaboration amplifies us; we communicate openly and constructively to deliver world-class research because our people work together and with partnering organisations and clients.

Energy & Passion
Enthusiasm defines us; we have a passion for good ideas (big and small), for expertise and for helping each other out. Positive energy is created by loving what we do, creating fun and having a "can and will do" attitude.

Integrity
Honesty is our byword; we offer independent, impartial research and service, and communicate clearly, honestly and respectfully with each other and we do what is right for our clients, our staff, our industry and our community.

And the winners of the 2018 ARRB Values Awards are...
Transformative: Ardiane Humolli
Collaborative: Dr Elsabe Van Aswegen
Energy & Passion: Gage Hodgson
Integrity: Dr Charles Karl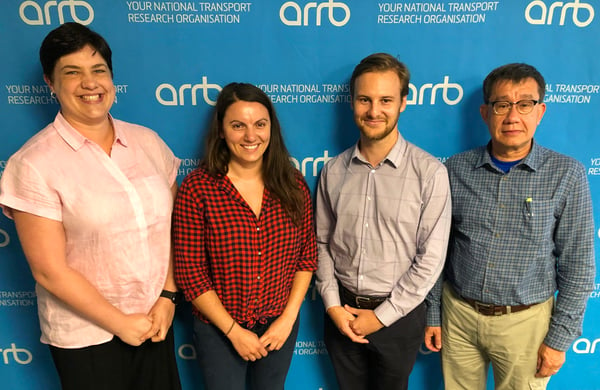 From left: Dr Elsabe Van Aswegen, Ardiane Humolli, Gage Hodgson and Dr Charles Karl.
Congratulations to all our winners and thank you for all your hard work in helping us shape the future of transport.
After the awards ceremony our staff and their families enjoyed a fun evening at the ARRB Carnival.