The WARRIP, the joint initiative between the Australian Road Research Board and Main Roads WA, is investigating the usage of crumb rubber modified (CRM) binder technology in open-graded (OGA) and gap-graded (GGA) asphalts in Western Australia.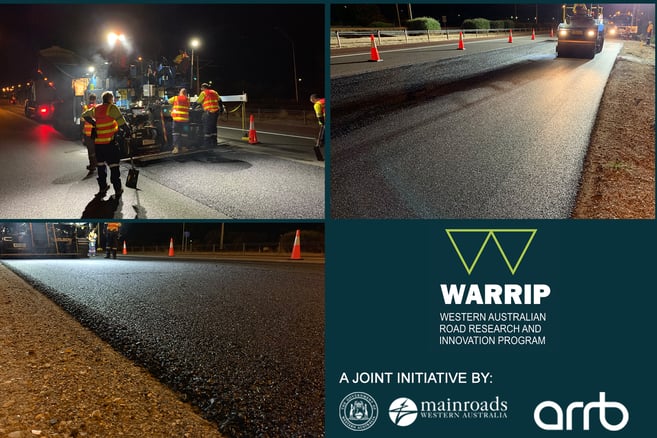 The inclusion of crumb rubber from waste tyres into a bituminous binder for use in road pavements improves performance through increased durability and cracking resistance. Across Western Australia the sustainable usage of this waste material has been implemented in sprayed seals for over 30 years. However, its application in OGA and GGA has not been previously explored. The validation of CRM binder usage in OGA and GGA applications for the WA road network is therefore an important focus of the WARRIP.
So far, this research has achieved the following:
The development of an OGA mix using crumb rubber modified binder and amendments to the Main Roads surfacing specification.
Development of a 14 mm CRM GGA mix including the development of a Main Roads specification.
Development of a 10 mm CRM GGA mix including the development of a Main Roads specification.
Following on from this, WARRIP will continue to monitor the long-term performance of the CRM GGA mix which has been placed as a trial on the WA network, as well as investigating the digestion mechanics of crumb rubber into bituminous binders to further understand this sustainable technology.
For more information, click here.