Digitalisation of freight transportation transactions is undoubtedly a strong disruptor of the freight industry.
It's opening a whole portfolio of new opportunities to enable business performance benchmarking, understanding real-time freight market conditions to take immediate and impactful action, and to provide analytical and forecasting capability with regards to freight rates, fuel, operating costs, congestion, equipment values, market activities and market volatility.
During the last few decades, so many freight actors have utilised digital platforms for benchmarking, monitoring, management of freight operations and data, for analysing and also for forecasting.
So many digital innovators also have entered the race for positioning themselves in the forefront leading this disruption.
But why is it necessary?
Freight transportation consists of multiple parties interacting over different types of transactions.
The interactions in freight transportation industry are in two layers of physical and administrative.
Four types of transactions are identified within and across these two layers, namely information, financial, physical, and liability transactions.
Traditionally, there are a range of roles involved in these two layers. Double-spending, double-booking, and forgotten bookings are other common mistake attributing to inefficiencies and additional costs.
Digital transformation is hard when it is done within a single organisation, but digital transformation is even more difficult when it requires the coordination of many individuals, businesses, industry sectors, and government bodies.
We have seen how the Internet of Things (IoT) has already revolutionised the freight transport industry in the last decade. IoT is a collection of interconnected physical devices that can monitor, report on and send and exchange data.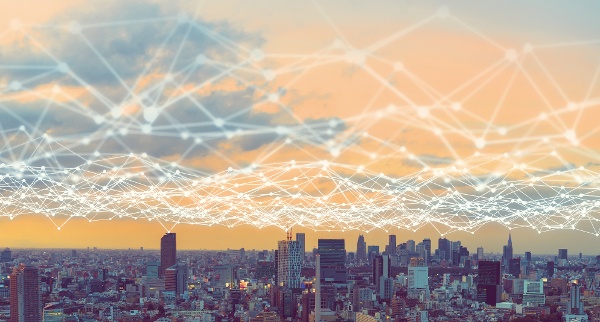 IoT devices are typically connected to computer systems via data or Wi-Fi networks. IoT devices use sensors to measure specific aspects of the world around them, including location, temperature, humidity, light levels, movement, handling, speed of movement and other environmental factors.
IoT devices come in many form factors including RFID chips, smart devices and mobile sensors.
The Internet of Things enables track and traceability through embedded sensors in physical transport objects such as containers or pallets, detecting the location and condition of the container content, and communicating the real-time data on internet.
The major challenges for IoT are big data analytics, connectivity to cloud and the fact that IoT equipment and devices are also costly and should be only handled and installed or uninstalled by trained people.
IoT devices have limited computing and storage capabilities, which make them vulnerable to hacking threats. To overcome this limitation, IoT devices are often employed as a complementary component of centralised data management systems. But one may also argue that it has some practical challenges itself including hacking risk and capacity throughput.
To solve these issues, Electronic Data Interchange (EDI) protocols are deployed which facilitates the instantaneous computer-to-computer transfer of information between different organisations. A complete system for exchanging electronic transactions consists of four elements:
Web-based EDI tool that translates your accounting information into the EDI format
EDI mapping syncs your accounting system to your customer's system
Transaction network sends and receives transactions
Ongoing EDI support and maintenance services
The existing EDI schemes in Australia are mainly focused on import/export international trade.
Synchronisation and integration of EDIs across multiple freight transport actors, however, requires a single authority to take the charge.
The key barrier of EDI for industries is the perception many businesses have about the nature of EDI.
EDI is not a data format but a system for exchanging business documents with external entities and integrating the data from those documents into the company's internal systems. Successful implementations of EDI take into account the effect externally generated information will have on their internal systems and validate the business information received.
In the last few years, we have seen a great deal of hype associated with blockchain applications in freight transport, supply chain and international trade.
Blockchain systems are now being used in production in various ways globally, but the speed and extent of blockchain adoption is undoubtedly very slow in Australia. The major adoption barrier of blockchain technology lies in the digital transformation of freight industry.
Digitalisation has also redefined the business models, and will most likely reshape the industry, as much as big data, automation and electrification has disrupted other transport sectors. Digitising freight transport is not simply a replacement of manual and paper transactions but is more a structural change in industry.
Is digitisation a game-over for traditional freight operators that still rely on their traditional siloed operation method? It is believed that the disrupted actors will win the race by reaping potential productivity improvements arising from digitising their industry.