In an Australian first, ARRB and SPARC Hub research teams have joined forces to instrument a full-scale accelerated pavement test section with fibre optic sensors.
In the process the joint research team have learned a great deal about placing these devices, which will be important in future construction of Smart Pavements.
The fibre optic cables have been laid at ARRB's Accelerated Loading Facility at Dandenong in Melbourne's south-east. The fibre optic cables are shown on the right of the picture below, during construction.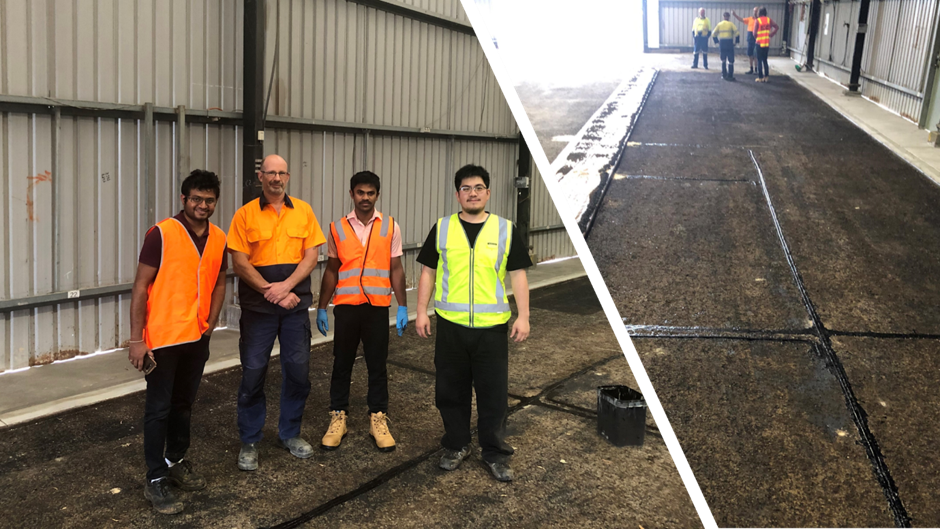 Taking a short break from the hard work at ARRB's Accelerated Loading Facility are: Sameera Pitawala (PhD Scholar, Monash University), Karl Wittick (ARRB), Suthakaran Sivagnanasuntharam (PhD Scholar, SPARC Hub, Monash University) and Dr Leslie Wong (Research Assistant, Monash University), with ARRB's Dr Didier Bodin (project lead) behind the camera.
SPARC Hub is the Smart Pavements Australia Research Collaboration Hub, which is a Monash University-led research collaboration. It is funded by industry partners of which ARRB is the largest, and by the Australian Research Council. Several Australian and several international universities are participating in the Hub, too.
ARRB is a proud investor and partner in the Hub to drive the training of the next generation of pavement experts who will help implement Australia's smart pavements network in the future.
You can find out more about SPARC Hub here .