Keeping people on roadworks sites safe at work is vital.
So Fulton Hogan's new initiative to move traffic controllers out of live lanes is a fantastic step forward towards better safety outcomes for traffic controllers and road workers.
As part of this process, Fulton Hogan reviewed what traffic management approaches could be used to support this goal. A traffic control guideline was developed based on the hierarchy of controls; with the safest and preferred option being a road closure, down to the last resort option being a STOP/SLOW bat with the appropriate approval.
Alternate traffic control devices were also reviewed, which included the GIBNEY® Barrier. Fulton Hogan has received certification from the Australian Road Research Board (ARRB) as part of the Transport Infrastructure Product Evaluation Scheme (TIPES) for the Australian GIBNEY® Barrier .
It's an alternative to the STOP/SLOW bat, but it moves traffic controllers out of live lanes - a necessary step to improve the safety and wellbeing of our people in the industry.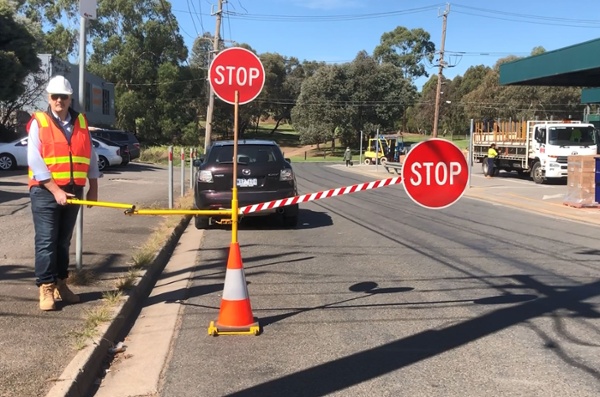 Based on Fulton Hogan's NZ-developed Gibney Barrier, the Australian GIBNEY® Barrier is operated by the traffic controller a minimum of 1.2 metres from the live trafficable lane.
It is a horizontal STOP/SLOW barrier arm that is opened and closed by the operator, who can lock it securely using a handbrake. It also doubles up as a STOP/SLOW bat that can be used for intermittent works if required.
"Working in and around live traffic is not just a challenge for Fulton Hogan, but for our industry as a whole," said Matthew MacMahon, Chief Executive Officer, Fulton Hogan Infrastructure Services - Australia.
"No one should feel at risk in the workplace, yet we see our traffic controllers stepping into live lanes of traffic everyday with little protection other than a STOP/SLOW bat to confront oncoming vehicles."
ARRB Principal Technology Leader, Transport Safety, Paul Hillier said: "The Gibney Barrier much reduces the risk to the operative over the operation of a STOP/SLOW bat from the live carriageway, and we believe it has strong application for use on low volume, low speed roads.
"It is a fit-for-purpose practical solution. Notwithstanding, of course, the choice to use any Traffic Control Device (TCD) should always be based on a site-specific risk assessment."
The Australian GIBNEY® Barriers are being manufactured by DeNeefe Signs & Traffic Technologies, a traffic management signage specialist located in Victoria, and Blackroo Industries, an Indigenous-owned enterprise that provides meaningful work to Indigenous inmates in the Muswellbrook region of NSW.
For more information click here or email staysafe@fultonhogan.com.au
Click the Play button to watch the video showing Fulton Hogan's Australian Gibney Barrier in action.