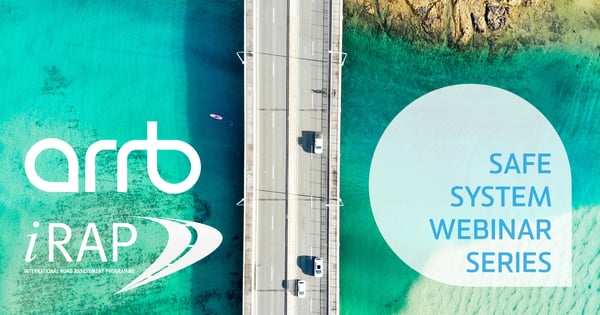 The International Road Assessment Program (iRAP) and ARRB - your National Transport Research Organisation - have recently signed a partnership agreement to deliver online training worldwide to help meet the UN Road Safety Targets 3 and 4.
In 2018, UN Member States agreed on 12 new Global Road Safety Performance Targets to drive action across the world. The targets include ensuring all new roads are built to a 3-star or better standard for all road users (Goal 3), and more than 75% of travel is on the equivalent of 3-star or better roads for all road users by 2030 (Goal 4).
Online training has become an increasingly important platform to reach attendees worldwide, making it a more effective and easier to access way of learning. To help fulfil iRAP's goal of building capacity worldwide, ARRB and iRAP will partner to deliver webinar training to Road Safety Practitioners.
Combined with both iRAP and ARRB's Road Safety Experts and ARRB's state-of-the-art webinar training facilities, this collaboration will allow easy-to-use and low-cost access to the latest international road safety knowledge and best practice (including Star Rating Essentials and Star Rating for Designs).
"ARRB's state-of-the-art training facilities and road safety expertise help us (iRAP) provide the 'how' for training road engineers, designers and road safety stakeholders in assessing, designing and building a 3-star or better road", iRAP's CEO Rob McInerney said on this partnership.
ARRB CEO, Michael Caltabiano, said "At ARRB 'safety' is in our DNA. This enhanced partnership with iRAP will take the expert knowledge and skills that are unique to ARRB and provide a new platform to share this knowledge and lift the skills to save lives on a much bigger scale.'"
Co-presented by Greg Smith of iRAP and Paul Hillier of ARRB, the first webinar, will discuss the Safe System approach to road safety in network improvements around the world through the work of iRAP.
Click below for more info and to register for the webinar.
Last year, iRAP and ARRB first collaborated with a Star Rating Essentials webinar series which received excellent feedback. Due to popular demand, this 5-part webinar series is now available as a self-paced online series with videos and assignments to complete along the way.
More information on this training and other upcoming training can be found on iRAP's Training Calendar.
You can find out more information on iRAP's website here.