ARRB has secured accomplished executive leader Jeff Doyle to lead its new Infrastructure Measurement Group.
Mr Doyle will assume the role of Executive Director, Infrastructure Measurement, and take this part of the ARRB business into the future, delivering a new level of service to all those in the transport sector across road, rail, ports and airports.
He will lead innovation and product development within this ARRB group, and roll out the delivery of next generation network-wide digital data collection, utilising world leading technology.
Mr Doyle is the former chief executive officer of Altus Traffic and the Adecco Group (Australia and NZ).
Mr Doyle had been Group CEO at Altus Traffic for six years, and previously led recruitment giant Adecco as CEO of its Australia and NZ operations. He also held senior leadership roles at Adecco before his elevation to CEO, and office supplies company Corporate Express.
Mr Doyle also holds multiple board directorships and is very well recognised across the infrastructure sector as a person who gets things done.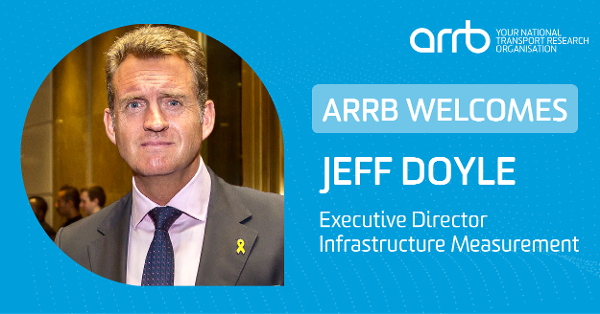 ARRB Chief Executive Michael Caltabiano said: "Jeff's appointment to this new role will enhance ARRB's offering to our shareholders especially Local Government across Australia, delivering to them smart, efficient and cost-effective Infrastructure Measurement services supported by asset management experience.
"Jeff will lead the transformation of the Infrastructure Measurement group within ARRB as we enhance the fleet with world first technologies that will deliver digital twinning capability and rapid assessment and reporting of the condition of our road networks.
"ARRB's role across all infrastructure sectors - road, rail, port and airports - will also be strengthened through the development of fit-for-purpose cost-effective tools that support a deeper understanding of asset performance."