COVID-19 has changed Australia potentially irrevocably. How has it changed our travel behaviour? The Australian Road Research Board conducted a COVID-19 Transport Survey In April/May 2020 to gain some insights into the impacts and perceptions of COVID-19 related travel restrictions.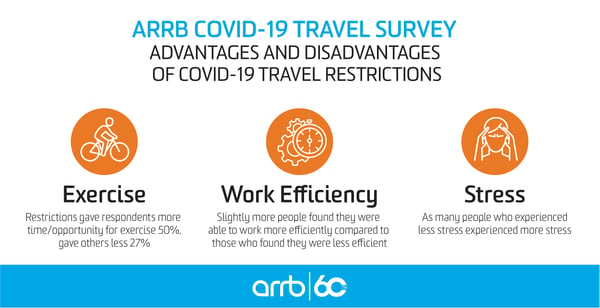 The survey was provided to ARRB staff and they were also invited to circulate the survey to their family, friends, and associates.
Our first infographic we shared here showed the results of the respondent's demographics. We will be sharing additional facts and stories coming out of the responses out of this particular study through our next two infographics.
The results at the end of this new infographic relate to the average reduction in travel time respondents experienced and focuses on the advantages and disadvantages in various factors as a result of the COVID-19 restrictions.
To learn more about the National Transport Performance Centre, click here: ntpc.arrb.com.au