ARRB and Queensland's Department of Transport and Main Roads have been recognised for innovation with their joint venture NACOE.

They were awarded the 2019 AAPA Queensland State Innovation Award for the National Asset Centre of Excellence Research Program (NACOE).
On Friday 14 June, Matthew Bereni, ARRB's Queensland State Technical Leader, and Jeffrey Lee, Principal Professional of ARRB's Future Transport Infrastructure team, (both pictured above) attended the AAPA Queensland Industry Awards 2019 and were presented with the prestigious award.
Queensland is one of the leading Australian states with regard to transport and road research and the team at ARRB feels incredibly privileged to be able to deliver cost-effective, safe and practical solutions which benefit all road users in Queensland.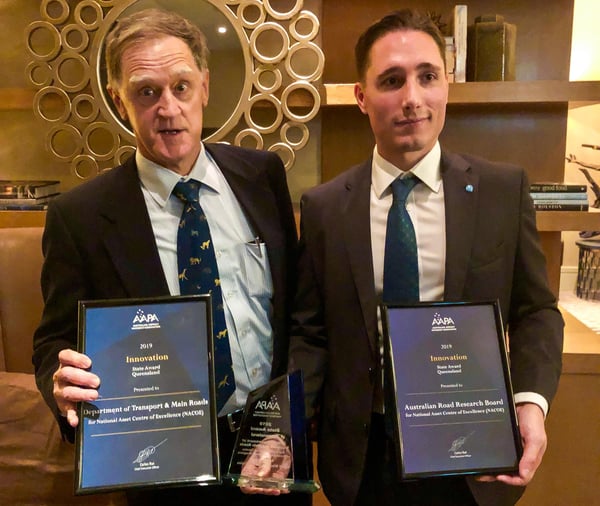 Peter Evans of the Department of Transport and Main Roads and Matthew Bereni.
ARRB would like to extend a special thanks to Peter Evans, Deputy Chief Engineer at the Queensland Department of Transport and Main Roads and Joe Grobler, Principal Professional Leader, Future Transport Infrastructure at ARRB, for their successful management of the NACOE agreement.
Click here to learn more about NACOE.
*Title image featuring Matthew Bereni and Dr Jeffrey Lee.