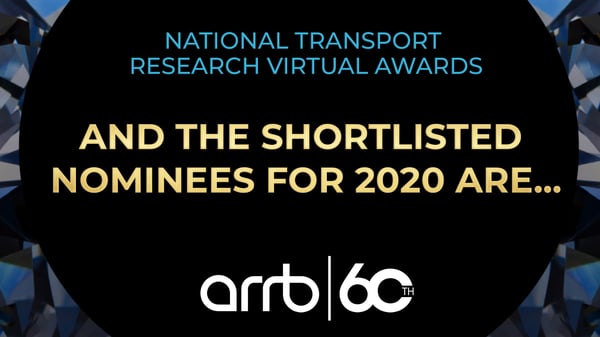 The nominees for the National Transport Research Virtual Awards 2020 have been chosen!
The NTR Awards recognises and celebrates research excellence across our transport sector.
We're delighted to reveal the brilliant innovators and researchers making ground-breaking impacts in the transport industry.
Here are your shortlisted nominees for 2020:
Lifetime Contribution Award
Dr Philip G. Laird – University of Wollongong
Dr. Tim Martin – ARRB
Dr Greg Stephenson – Brisbane City Council
Lex Vanderstaay – Department of Transport and Main Roads
Research Rising Star Award
Chamara Jayalath - Queensland University of Technology
Dr Amy Killen - Monash University
Dr Negin Zhalehjoo – ARRB
Research-Industry Partnership Award
Best Practice Guides for Local Government - ARRB, Local Councils and practitioners
Mobile Phone Detection Camera - Transport for NSW and their technology providers
Robotics Transverse Profiler for high precision pavement measurement - Nanocomm Research Team & ARRB
Sustainable Transport Infrastructure Award
Ipswich Connected Vehicle Pilot - Queensland Transport and Main Roads
East Boundary Road Crumb Rubber Asphalt Demonstration Trial – ARRB and their partners; Department of Transport Victoria, Tyre Stewardship Australia & the Australian Asphalt Pavement Association
Wheelie compact public bicycle storage - Monash University and Victoria Department of Transport
Local Government Innovation Award
Edge sealing of asphalt repairs - Gold Coast City Council
Electronic Wildlife Signage - Mornington Peninsula Shire Council
Smart City Rye Parking Optimisation - Mornington Peninsula Shire Council
Congratulations to all our finalists and thank you to those who nominated!


Who will win?

If you're as intrigued as we are to know the winners and to help us celebrate the best of our industry, make sure you check your inbox on Thursday 19th November 2020 for a special link to watch the presentation.

Sign up below so you can be one of the first to know who the winners are!