An agreement between ARRB - the National Transport Research Organisation - and the National Heavy Vehicle Regulator (NHVR) will deliver a cutting edge route assessment tool free to road managers from participating jurisdictions through the NHVR Portal.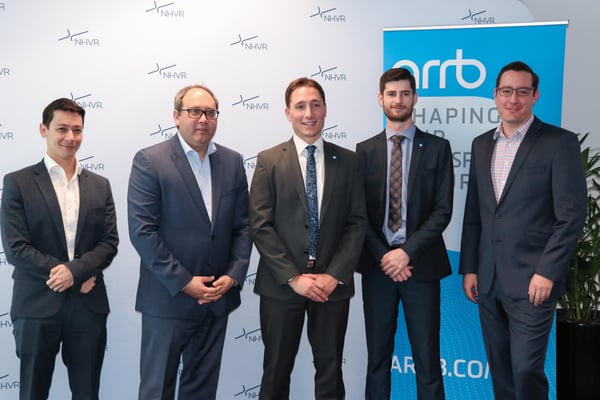 From left, Robert Chow, LGAQ project manager heavy vehicle access; NHVR CEO Sal Petroccitto; ARRB state technical leader Matthew Bereni; ARRB engineer Kieran Hay; and Scott Britton, LGAQ principal advisor - roads, transport and infrastructure.
Image courtesy: NHVR.

NHVR CEO Sal Petroccitto said the Restricted Access Vehicle Route Assessment Tool (or RAVRAT) provides local governments with a consistent assessment tool and methodology when assessing heavy vehicle access requests.
"The NHVR and road managers processed almost 35,000 access permit requests in 2017-18 – more than half of all permit applications across Australia," Mr Petroccitto said.
"Heavy vehicle operators are looking to the NHVR and road managers to provide a consistent transparent approach to making access decisions and this tool is an important step forward.
"The fact that we've been able to work with ARRB and several local government associations will provide consistency while saving road managers time and money."
ARRB's Queensland State Technical Leader Matthew Bereni said RAVRAT 2.0 includes a new user interface for the website and integration into NHVR Portal - Road Manager Module.
"There have been a number of improvements to RAVRAT which will ensure a reduction in assessment times, improved user experience and enhanced training material," Mr Bereni said.
"RAVRAT currently incorporates three main route assessment modules with the aim to develop more modules in the future."
To register for the RAVRAT services visit http://ravrat.com/sign-up.aspx
For more information about using RAVRAT or the recent changes, please email ravrat@atlab-arrb.com.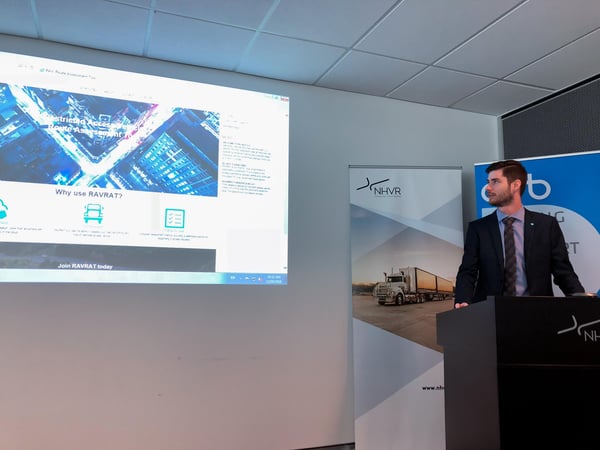 Kieran Hay presenting on the benefits of RAVRAT.
More details can be found over at OwnerDriver Magazine. See their story here.