Over the summer holidays, the Australian Road Research Board (ARRB) hosted four interns as a part of the ARRB Academy Intern Program, overseen by Dr Mike Shackleton, Chief Research Officer.
Out of nearly 350 applications these were the four interns who were successful in obtaining an internship for the 2017/2018 summer at the ARRB.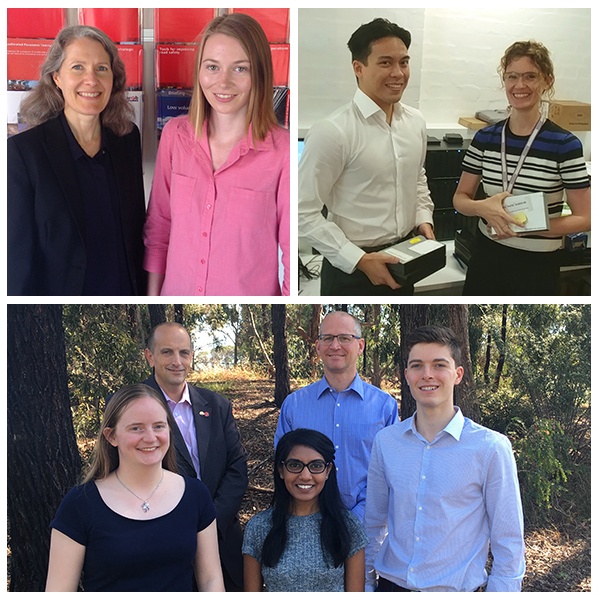 (Clockwise from top left) Dr Anna Chevalier with intern Evelyn Russell, Dr Giovanna Zanardo with intern Jack Davidson, Dr Mike Shackleton, Jerome Carslake and Stephanie Davy with interns Lydia Thomas and Mathew Knight.

Lydia Thomas was one of the interns in the Melbourne office who worked closely with Stephanie Davy in the Data Collections area. Lydia is currently studying a Bachelor of Engineering (Environmental Engineering) at RMIT University and we are pleased to say that since the conclusion of her internship, she is now working two days a week at ARRB.
Watch the video below to hear what Lydia learnt at her time at ARRB.
Mathew Knight was another intern in the Melbourne office. He is currently studying a Master of Electrical Engineering with Business at the University of Melbourne.

He predominantly worked with Jerome Carslake in the National Road Safety Partnership Program (NRSPP) team. After his internship ended, he also stayed on working one day a week.
Watch the video below to see what Mat got up to in his time at ARRB.
Evelyn Russell was interning in the Sydney office with Dr Anna Chevalier in the Safe Systems and Human Factors area. She is currently studying a Bachelor of Science (advanced mathematics) and a Bachelor of Arts (majoring in English) at University of New South Wales.
Watch the video below to hear all about Evelyn's experience.
Finally, Jack Davidson interned in the Brisbane office with Dr Giovanna Zanardo in the Future Transport Infrastructure team. Jack is currently studying a Bachelor of Mathematics / Commerce at University of Queensland.
Watch the video below to hear about Jack's time at ARRB.
We recruit for our ARRB Academy program once a year for 12 weeks over the summer holidays. If you'd like to be considered for the next round of internships or know someone who would be a perfect fit for ARRB, keep an eye out on our careers website and social media for the announcements.
We are currently taking internship applications for the 2019 summer holidays, applications have now been extended until June 15th, click the button below to apply.