There are just two days left to get your nominations in for the Australian Road Research Board's (ARRB) inaugural Gala Dinner and Awards Night!
Last year's awards dinner recognised and celebrated research excellence across the transport sector and we are continuing this recognition of talent in 2018.
Winning an ARRB Award reflects talent across the transport industry and leadership in shaping our transport future.

Here are some words from last year's winners: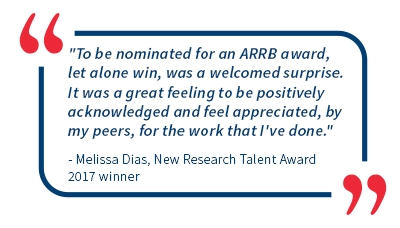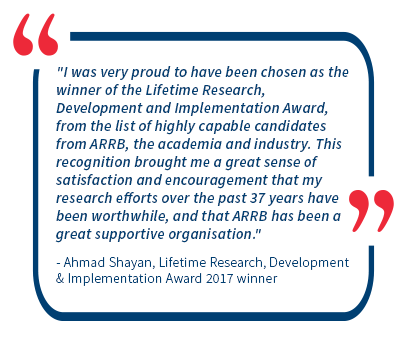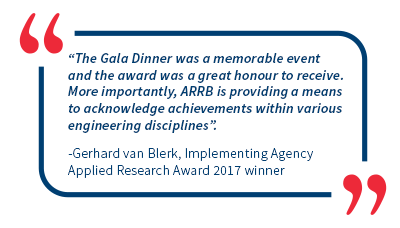 Stop what you're doing, submit a nomination and give your industry colleagues the chance to win one of these prestigious awards.

Please note: If you are attending the 28th ARRB Conference with a full delegate registration, one (1) ticket to this event is included free of charge with your conference registration!
The Awards
Nominations
Using the selection criteria, please submit your nomination via the button below.
Nominations are to be submitted by 1 March 2018.
After submitting a nomination
Once you've lodged a nomination, don't forget to purchase your event ticket via the button below and join us for the celebration. Or if you're attending the 28thARRB Conference with a full delegate registration, your ticket to this event is entirely free!


Get involved
Did you know that sponsorship opportunities exist for this very special event, as well as each of the award categories? Would you be excited to see your company's name in the spotlight, with exclusive signage rights and your brand getting the recognition it deserves? With an anticipated 500 guests in attendance, this is a marketing opportunity like no other.
For further information contact Angela Racz:
+61 3 9881 1694
AWARD SPONSORS