A new and exciting autonomous shuttle bus trial that will help shape the future of public transport moves into a new and important phase of testing next week at La Trobe University Bundoora campus.
Project partners of the Autonobus attended a stakeholders outing on Thursday 19th April, prior to the launch to the public. Nine News Melbourne was at the public launch on Tuesday 24th April.
Autonobus is a collaboration between ARRB, founding partner Keolis Downer, HMI Technologies, VicRoads, RACV and La Trobe University.
"As the National Transport Research Organisation, ARRB, welcomes the Autonobus demonstration at La Trobe University. Every step on the journey to deliver a truly connected and automated future is important. Delivering this technology for students to use and then expanding this for other users particularly those who are mobility challenged will be the translation of technology that enabled a more connected community" said Michael Caltabiano, CEO of ARRB.
Director of La Trobe's Centre for Technology Infusion Professor Ani Desai said the time had come for Autonobus to open its doors to passengers. "We are excited to be offering Victorians a unique opportunity to step into the future and experience first-hand world-leading driverless technology," Professor Desai said in a press release.

Jonathan Myers, Head of Growth, Innovation and Partnerships at Keolis Downer, said the research team had conducted four months of extensive research on Autonobus to test technical and safety aspects of the bus. "Since November, Autonobus has travelled hundreds of hours on a set route along Science Drive at La Trobe's Bundoora campus for testing purposes ensuring passengers safety," Mr Myers said.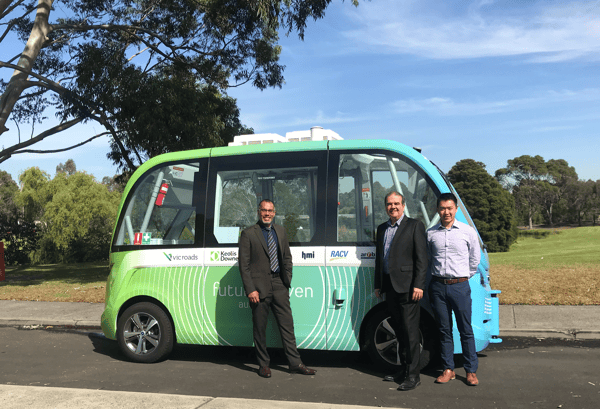 Hany Eldaly, MaaS Managing Director, Michael Caltabiano, ARRB CEO and Dr Ronny Kutadinata in front of the Autonobus.
The day began with a project partners meeting where Erik van Vulpen, Manager, Centre for Technology Infusion at La Trobe University, gave a presentation demonstrating the plans for how the trial will run and what the plans are for the future post the completion of the trial.
Next, it was time for a ride in the driverless shuttle itself! Mr Caltabiano and Dr Ronny Kutadinata, Senior Professional Leader, Future Transport Technology, were joined by Hany Eldaly, Project Director, AV of HMI Technologies for a ride along the transport route on campus.
"This trial will enable us to gain better understanding of the customers behaviour towards the AV technologies, operations requirements, and the regulations and legislation challenges for future implementation." said Mr Eldaly. "It is also important to assess how this technology can be integrated with the existing conventional transport services – covering the first and last mile mobility services. This will ultimately speed the adoption of the automated vehicle technology".
The round trip took a total of 15 minutes with travel speeds reaching up to 30km/ph. Each shuttle has the capacity to carry 7 people (TBC) but for the purposes of the trial, it will take five people (including the an 'operator') at a time. The Autonobus demonstrated how its sensors worked by stopping at pre-existing bus stops, giving way to other vehicles and slowing down at pedestrian crossings to allow people to cross safely.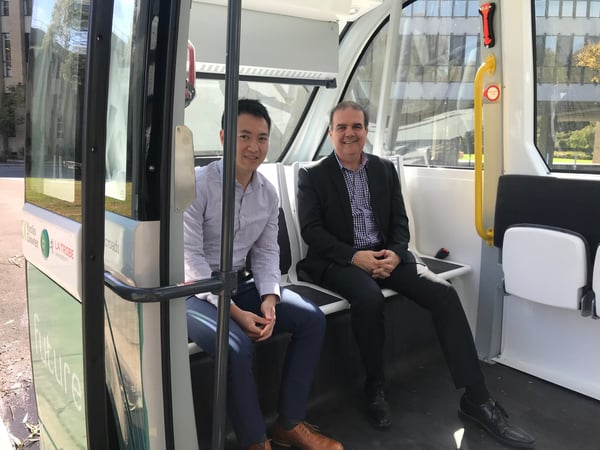 Dr Ronny Kutadinata and Michael Caltabiano inside the Autonobus with their seat belts on!
The purpose of the trial is to bring autonomous vehicles one step closer to operate in a public road environment by understanding:
Safety and operational aspects: Testing how autonomous vehicles interact with their environments to the development of safety and risk analysis guidelines.

Value proposition and Customer experience: Establishing the pre- and post-disposition with regards to AV's, pre-and post-concerns and the customer experience evaluation among various potential user groups.

Legislation and Regulatory hurdles: Identifying the gaps and conflict in the relevant legislations and regulations to enable future public operations of autonomous shuttles.

Commercial and liability aspects: Developing commercial framework outlining the responsibilities and liabilities between operators, vehicle suppliers, road operators and supporting third parties such as insurance providers.
Members of the public have the opportunity to test the bus first-hand from 24 April 2018 and they want you to get involved! More than 600 students, staff and members of the public from Melbourne's north and beyond have already expressed interest in joining the Autonobus trial as it moves into a new phase of testing.
Watch the short video below!
Click the button below to register your interest for a free ride!
The trial will run on an existing transport route at La Trobe University until May 2018.