Few have more intimate knowledge of autonomous vehicle technology than Professor Hugh Durrant-Whyte.
The new Chief Scientist and Engineer for New South Wales is a world-renowned expert in robotics. He helped develop simultaneous localization and mapping (SLAM) – a key technology in autonomous vehicles.
So his expert opinion on our connected and automated future is well worth listening to.
You can hear Professor Durrant-Whyte at the 3rd International Driverless Vehicle Summit in Adelaide from October 31 to November 2, where he will be a keynote speaker.
IDVS3 is brought to you by the Australia and New Zealand Driverless Vehicle Initiative (ADVI), and features a superb line-up of speakers and exhibitors - all in one place at the one time at Adelaide Convention Centre - and important networking opportunities for those in the driverless vehicles space.
Before taking up his current role, Professor Durrant-Whyte was previously the chief scientific adviser for the UK Ministry of Defence. He has also been Director of the Centre for Translational Data Science at the University of Sydney, Chair of the NSW Government's Innovation and Productivity Council, and formerly head of National ICT Australia, now CSIRO's Data61.
He has published over 300 research papers, graduated over 70 PhD students, and has won numerous awards and prizes for his work, including being named 2010 NSW Scientist of the Year.
Don't miss out on what should be a fascinating keynote address. Register now to hear a world expert share his view on what a connected and automated future will look like. Or find out more on our all-star line-up of speakers by checking the IDVS program below.
WIN A FULL REGISTRATION TO THIS YEAR'S SUMMIT
THANKS TO VOLVO!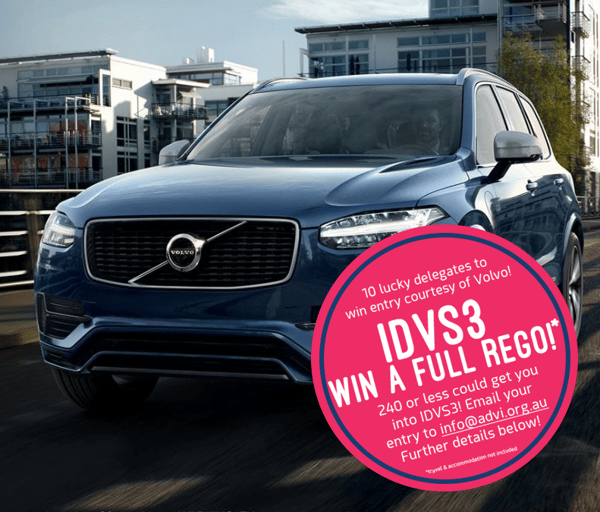 Volvo Car Australia, one of ADVI's Core Partners, are sponsoring full registrations to the summit in Adelaide Oct 31 – Nov 2*.
10 lucky delegates will have a chance to win!
To enter, simply tell us in 240 characters or less (the size of a tweet!) why you need to be at this year's summit. You also need to have a valid student number and include your current field of interest.
The first 10 qualifying applications will receive a full registration to #IDVS3!
So get cracking and we hope to see you there! Click the button to enter!


*travel and accommodation not included