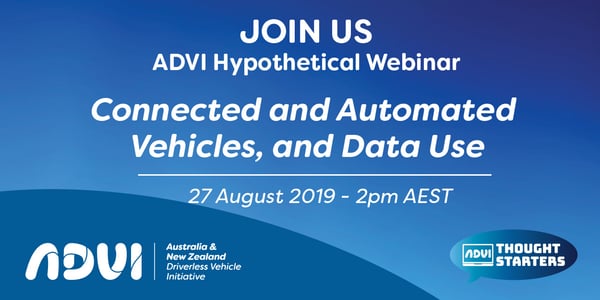 Tuesday 27 August at 2PM AEST.
Join us for this FREE ADVI Hypothetical Webinar.
Data and autonomous vehicles – should we care? Is this another step towards big brother watching me? Can anyone watch me? Can government spy on me? Who owns my travel generated data? These are just a few concerns emerging from the community over the rise of autonomous vehicles.

And then there the practical issues such autonomous vehicles are going to produce enormous volumes of data can the system even cope or will it all crash? Is our digital infrastructure even ready for the rollout? Where will it be housed? How secure is the data? Is legislation even ready? What about accessing personal versus sensitive data, where do we draw the line?

These are just a few of the questions which will be explored by an all star Web panel - Connected and Automated Vehicles and Data Use – opportunity or barrier?

Ahead of this webinar ADVI has created a supporting Thought Starter to begin sparking thoughts which for many people have not even crossed your mind.

So please join our panellists in a conversation to understand and challenge them on this topic:
Anna Sawyer, Associate Director at Deloitte
Jeff Feldman, Director at EY
Kate Stannett, Head of Cities,Uber
Chen Cai, Research Group Manager at CSIRO's Data 61
Carlos Aggio, Deloitte Director (loT)
Facilitated by Jerome Carslake, Principle Professional Leader at ARRB.
Registration for this FREE webinar is essential. Click below to register.
Join us for this
FREE
NRSPP webinar on August 27, 2019 at 2:00 PM AEST.
Participants please note - this session will commence at 2:00 PM AEST (Australian Eastern Standard Time). There may be time zone differences that apply. It is recommended that you connect to the webinar 15 minutes prior to allow sufficient time for potential connection delays.
After registering, you will receive a confirmation email containing information about joining the webinar.