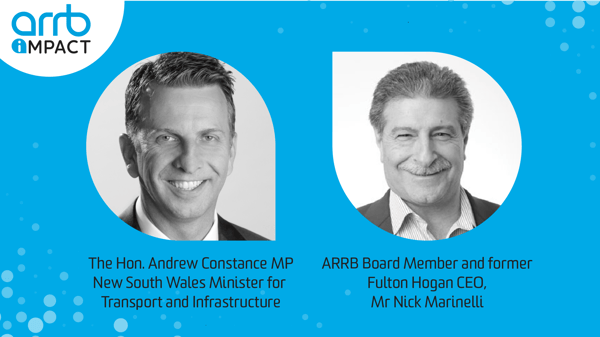 23 June 2020, 12PM AEST
Join guest speakers NSW Minister for Transport and Infrastructure, the Hon. Andrew Constance MP, and former Fulton Hogan CEO Nick Marinelli via video link to discuss the topic: Enhancing Mobility and Connectivity in a new COVID-19 world.
Date: Tuesday 23 June
Time: 12pm-1pm (AEST)
Topic: Enhancing Mobility and Connectivity in a new future world
Price: $20
Special Guests: The Hon. Andrew Constance MP, current ARRB Board Member and former Fulton Hogan CEO, Mr Nick Marinelli
There will be opportunities to ask questions directly of both guests via an interactive question and answer session.
COVID-19 has profoundly changed how Australians work – and the changes for road construction and maintenance are far-reaching.
ARRB iMPACT is proud to present the first in a series of virtual networking events for the transport industry called Exploring Integrated Mobility, on Tuesday, June 23, from 12 noon AEST.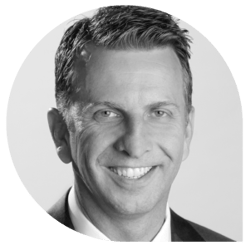 Andrew Constance has been NSW Minister for Transport since 2015. He is overseeing a record $55.6 billion spend on public transport and roads over the next four years, on top of the $58.3 billion the NSW Government has already spent on public transport since winning Government in 2011.
The NSW transport and infrastructure revolution is well underway with the opening of mega projects such as the Sydney CBD and South East Light Rail, the new M4 Tunnels and the driverless Northwest Metro train in 2019.
Other game-changing projects, including the opening of two new major motorways known as Northconnex and Westconnex, are just around the corner. Progress is well underway on the next stage of the driverless Metro train through Sydney's CBD and South West, which will include the first rail tunnel under Sydney Harbour.
Transport of the future is a key interest of Andrew's and he is excited about combining technology, innovation and transport. He believes customer experience should be at the centre of all transport. He now oversees both Roads and Transport portfolios which means he has an unprecedented opportunity to design and build an integrated network of roads and public transport for NSW.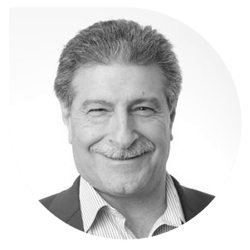 Nick Marinelli has more than 35 years' industry experience including senior executive positions, both in Australia and overseas. Nick spent two years as CEO of Fulton Hogan Australia. He led the company's combined Australian businesses of construction, infrastructure services and utilities. Nick is a valued member of the ARRB Board of Directors and is committed to building long-term collaborative partnerships with industry and Government.
Join us for this ARRB
Impact virtual event on June 23, 2020 at 12 PM AEST.
Participants please note – this session will commence at 12 PM Australian Eastern Standard Time (AEST). There may be time zone differences that apply. It is recommended that you connect to the webinar 15 minutes prior to allow sufficient time for potential connection delays. It is also important that you check the system requirements for the webinar in advance of the session.
After registering, you will receive a confirmation email containing information about joining the webinar.