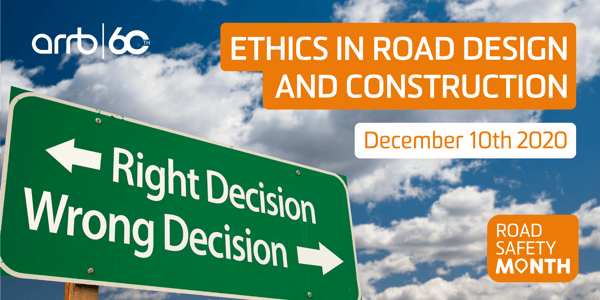 Thursday 10 December 2020, 2PM AEDT
This webinar will revisit theories of ethical and moral value and the engineer's role in designing safe and sustainable infrastructure. We will discuss ethics in the professional discipline: how ethics relates to safety, risk, responsibility, and decision making. We will look at real-world case examples and discuss 3 key ethical frameworks: Pragmatism, Cost-Benefit Analysis and Duty Ethics. Barrister Rattray will hold a frank discussion on the legal emphasis of the ethical Duty of Care and consider the liability landscape that road practitioners might encounter as we move toward an autonomous driving future.
Presenters
Tia Gaffney: Principal Professional Leader Transport Safety, ARRB
Hayden Rattray: Barrister, Victorian Bar Association


Join us for this ARRB
webinar on December 10, 2020 at 2 PM AEDT.
Participants please note – this session will run during Australian Eastern Daylight Time (AEDT). There may be time zone differences that apply. It is recommended that you connect to the webinar 15 minutes prior to allow sufficient time for potential connection delays. It is also important that you check the system requirements for the webinar in advance of the session.
After registering, you will receive a confirmation email containing information about joining the webinar.