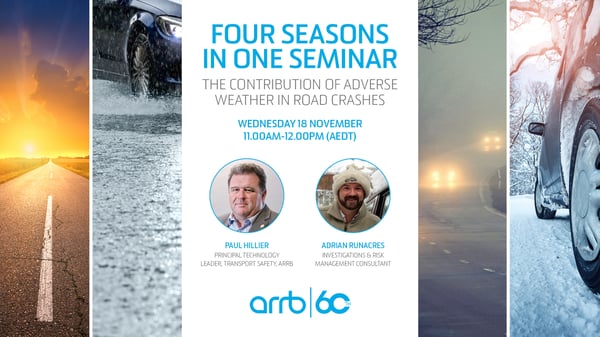 Wednesday 18 November 2020, 11AM AEDT
Join us for this ARRB virtual seminar!
As we brace ourselves for the prospect of searing heat and intense rainfall events in the coming months or reflect more generally on adverse weather around Australia throughout the year, this webinar will consider the contribution that various kinds of adverse weather make to road crashes either as causation or contributory factor. Wind and extreme heat events and the various forms of precipitation (rain/hail, ice, frost, snow) all have the potential to increase the risk faced by the traveling public, and their influence will be discussed. A selection of risk mitigation measures will also be introduced. Insights into the effects of adverse weather in other parts of the globe will also be touched upon to provide a comprehensive coverage.
Virtual seminar details
Date: 18 November 2020
Time: 11am AEDT
Presenters
Paul Hillier - Principal Technology Leader, Transport Safety, ARRB
Adrian Runacres - UK based expert - Forensic Meteorologist
Join us for this ARRB
virtual seminar on November 18, 2020 at 11 AM AEDT.
Participants please note – this session will run during Australian Eastern Daylight Time (AEDT). There may be time zone differences that apply. It is recommended that you connect to the webinar 15 minutes prior to allow sufficient time for potential connection delays. It is also important that you check the system requirements for the webinar in advance of the session.
After registering, you will receive a confirmation email containing information about joining the webinar.