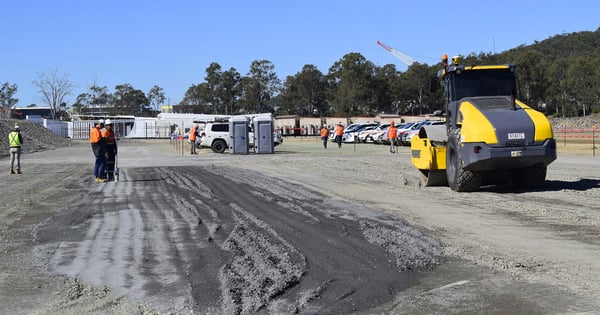 February 6 and March 19, 2020
Join us for this NACoE Webinar Series.
Traditional quality control specifications for earthworks require the achievement of a high relative compaction and rely on density measurements.
A June 2018 ARRB webinar (Part 1 - concepts) introduced other tools that may be used for quality control assessment.
A state-of-the-industry study was completed to identify test methods that have the potential to: (a) reliably provide a direct measure of the strength or in-situ modulus value; and (b) offer significant time savings in turnaround time of test results.
Comparisons of density with alternative in-situ testing show the latter provide significant benefits to the industry. Accuracy is not the same as precision, and industry's reliance of density places an emphasis on precision rather than accuracy, data usability or timeliness of results.
Recent research has found density measurements are, although precise, not very accurate due to poor correlation with the results of other modulus or strength-based tests.
The February 6 webinar (Part 2) compares the limitations, benefits and issues associated with traditional density testing and other types of testing with research data various sites.
Presenters:
Dr Jeffrey Lee (ARRB)
Dr David Lacey
Dr Burt Look (FSG – Geotechnics + Foundations)
The March 19 webinar (Part 3) focuses on the applications and procedures associated with alternative testing to a density-based approach.
In earthworks testing, using density ratios is applied widely in quality control. There are currently many different measuring devices which can provide a more accurate measurement of design parameters (strength or stiffness) and can provide a more direct route for parameter assessment (i.e. limit need for any inclusion of generic relationships).
Presenters:
Dr Jeffrey Lee (ARRB)
Dr David Lacey
Dr Burt Look (FSG – Geotechnics + Foundations)
Join us for these
NACoE webinars on February 6 and March 19, 2020 at 11:00 AM AEDT.
Participants please note – this session will commence at 11 am Australian Eastern Daylight Time (AEDT). There may be time zone differences that apply. It is recommended that you connect to the webinar 15 minutes prior to allow sufficient time for potential connection delays. It is also important that you check the system requirements for the webinar in advance of the session.
After registering, you will receive a confirmation email containing information about joining the webinar.