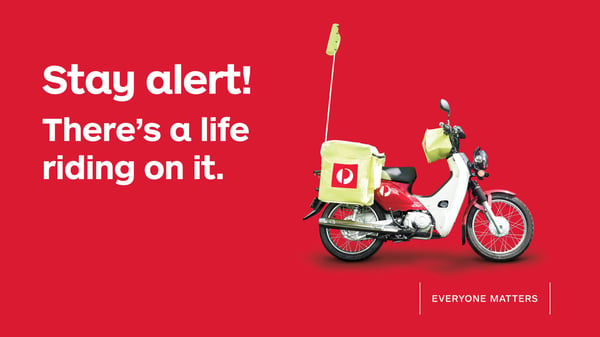 Tuesday 21 May at 2PM AEST.
Join us for this FREE National Road Safety Partnership Program (NRSPP) webinar.
When people think about the greatest risk to the iconic postie, most will believe it to be the dog. In reality, it is not the dog but the motor vehicle.
Australia Post has 15,000 vehicles on the country's road on any given day. The road represents huge exposure to its workforce. When you think about the 6,500 posties on their motorcycles they have little protection and are extremely vulnerable to other road users. For Australia Post a mistake made by a car driver can be catastrophic which is why it has embarked on its first road safety campaign, it needs all road users to share the responsibility of protecting all of its workers, especially its most vulnerable posties on motorbikes and pushbikes.
Join Australia Post in sharing their road safety campaign as part of their commitment to the UN Decade of Action for Road Safety.
Registration for this FREE webinar is essential. Click below to register.
Join us for this
FREE
NRSPP webinar on May 21, 2019 at 2:00 PM AEST.
Participants please note - this session will commence at 2:00 PM AEST (Australian Eastern Standard Time). There may be time zone differences that apply. It is recommended that you connect to the webinar 15 minutes prior to allow sufficient time for potential connection delays.
After registering, you will receive a confirmation email containing information about joining the webinar.