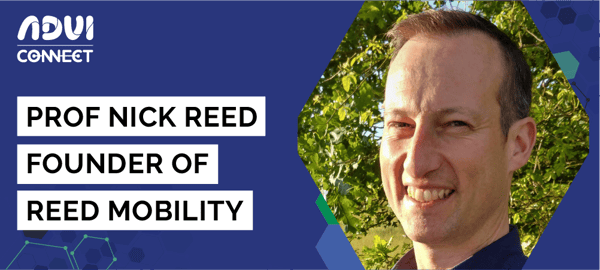 Click here to download the flyer >
14 October 2020, 4.30PM AEDT
Join us on Wednesday 14 October for a FREE ADVI Connect Webinar with Prof Nick Reed founder of Reed Mobility.

While driverless vehicles don't need a human at the wheel, people are fundamental to their successful, safe introduction. Professor Nick Reed is an expert on the human factors side of automated vehicles. He'll discuss work happening in the UK, and ways to get the human factors right with Emerging Technologies. Prof Reed is the founder of Reed Mobility, which provides expert independent consultancy on future mobility to all relevant sectors. He has 15 years' transportation research experience in the fields of psychology, human factors, road safety and CAVs. He was previously Academy Director at TRL, the UK's leading transport research centre, and Head of Mobility R&D at Bosch.
Click here to download the flyer >
Presenters
Rita Excell - Executive Creative Director ADVI
Nick Reed - Founder of Reed Mobility
Join us for this FREE ADVI Connect
webinar on October 14, 2020 at 4:30pm AEDT.
Participants please note – this session will commence during Australian Eastern Daylight Time (AEDT). There may be time zone differences that apply. It is recommended that you connect to the webinar 15 minutes prior to allow sufficient time for potential connection delays. It is also important that you check the system requirements for the webinar in advance of the session.
After registering, you will receive a confirmation email containing information about joining the webinar.