Changing Times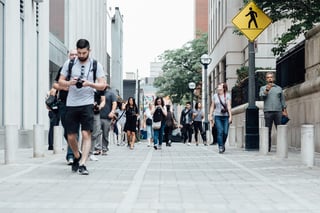 The way transport systems are used is changing.

Monitoring these changes, understanding the factors that drive them, and determining their implications for safety and efficiency is a growing component of the work undertaken by the Australian Road Research Board's behavioural scientists. We also work closely with other transport industry professionals to:
offer solutions to transport safety or efficiency problems involving human behaviour
contribute to better project outcomes through identification of best practice and well designed evaluations
contribute the road user perspective to fields such as transport safety, transport efficiency, transport integration, road user education and driver and rider licensing.
Our capabilities include:
field studies of driver, rider and pedestrian behaviour using direct observation, video recording and a variety of speed measurement devices
content, process and outcome evaluations of road safety interventions
gathering and interpretation of self-report data collected via a range of constantly-evolving methods based on questionnaires, group discussions and interviews
analysis of crash data (with emphasis on understanding contributing behaviours) and driver offence data
development of behaviour change programs.
The team is highly experienced in:
analysis of crash and traffic offence data to identify problems and target groups and evaluate program outcomes
surveys of road user knowledge, perceptions, attitudes and self-reported behaviour and crash involvement
community and stakeholder consultation
video monitoring of pedestrian and vehicle movements
statistical analysis in road transport
evaluation of past research.