Inspiring. Connecting. Delivering.
Mission
Creating knowledge for tomorrow's transport challenges and solutions for today.
Vision
To help make the world's cities smarter, cleaner, greener, safer, more efficient and productive through intelligent transport solutions.
Strategy
Achieving outcomes through planned action.
Technology
Harnessing the value of transformative technology.
Predict the advantages of disruptive technology
Utilise technology to meet growing community needs and aspirations
Use big data to simplify complex decision making
Infrastructure
Adaptive and affordable infrastructure for future generations.
Improve resilience to deliver beneficial community outcomes
Systems designed for people to improve access and journey experience
Right infrastructure choices for the community at the right price
Collaboration and People
Building multi disciplinary teams with highly evolved skills.
Sourcing best practice solutions to address transport challenges to serve our members
Efficient and timely delivery of cost-effective business solutions and communicating the complex in a simple and visual way
Enshrining world's best practice in all that ARRB does
Resilience and Security
Derive a new understanding of the future transport challenges in a changing world.
Optimising recovery and rehabilitation models for the transport system
Deliver an improved and informed understanding of security challenges that face the network
Embed a safe system approach to transport solutions
Delivering excellence through teamwork
ARRB has a core set of values that all our staff adhere to:
Transformative
Change enlivens us - we are continuously looking to improve the world around us, moving forward and innovating. The mobility solutions of the future will require adaptable skills, technologies and ideas.
Collaborative
Collaboration amplifies us - we communicate openly and constructively to deliver world-class research because our people work together and with partnering organisations and clients.
Energy & Passion
Enthusiasm defines us - we have a passion for good ideas (big and small), for expertise and for helping each other out. Positive energy is created by loving what we do, creating fun and having a "can and will do" attitude.
Integrity
Honesty is our byword; we offer independent, impartial research and service, and communicate clearly, honestly and respectfully with each other and we do what is right for our clients, our staff, our industry and our community.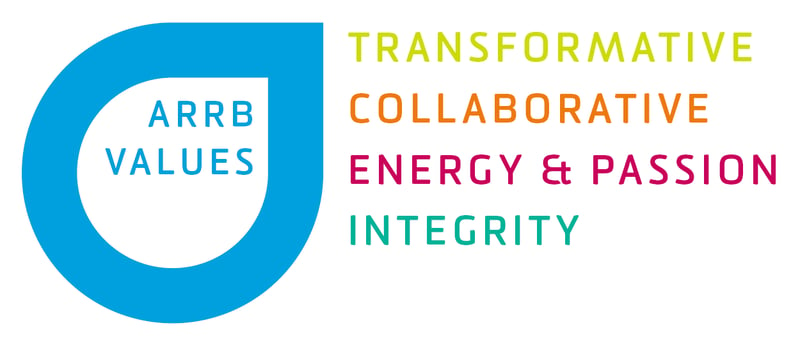 ARRB Annual Report 2019-20
ARRB Annual Report 2018-19
ARRB Annual Report 2017-18