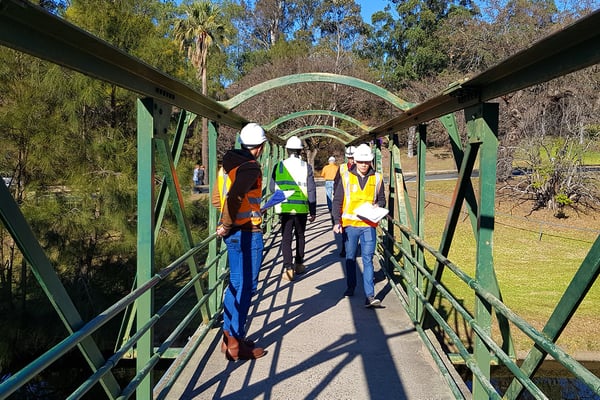 Bridges and other structures are crucial asset elements of the infrastructure network. It is essential that their condition is monitored and repairs are planned and completed in an efficient and timely manner. The systemic inspection, condition rating and monitoring of these assets are vital components to managing the lifestyle of these structures.
This 3-day workshop will assist participants to develop the knowledge and skills to conduct Level 1 and 2 inspections in accordance with industry best practice. Attendees should have a basic knowledge of bridges and culverts.
A Level 1

routine maintenance inspection is required to check the general serviceability of the structure, particularly for the safety of road users, and identify any emerging problems.
A Level 2

condition rating inspection is a key step in assessing the effectiveness of past maintenance treatments and identifying current maintenance needs to assist in the forecasting future changes in condition and estimating future budget requirements of structures across the network.
The Level One content is covered on Day 1 and the morning of Day 2. Level 2 then continues from the afternoon of Day 2 until the end of Day 3. Participants who wish to complete Level 2 are required to attend all three days.
UPCOMING WORKSHOP

27 - 29 April 2021

*Dates and prices are subject to change.
CONTENT
Introduction to structures inspections

Structure types and their components

Identifying common defects

Access and equipment requirements

Inspection Forms and Data Recording

The Inspection Process

Reporting

Safe work practices
PRESENTERS
NIGEL POWERS
CHIEF TECHNOLOGY LEADER – ASSET MANAGEMENT
Nigel is ARRB Chief Technology Leader – Asset Management and he has almost two decades of experience in the Victorian Public Sector including VicRoads and Major Road Projects Victoria (MRPV). During this time Nigel has worked across numerous aspects of road infrastructure including the planning, design, construction, maintenance and management of bridges, structures, pavements and related road assets.
Nigel has extensive experience across all aspects of bridges and road structures. He has experience in bridge design, inspection, maintenance and construction and has held senior roles in government responsible for the management of the West Gate Bridge and all road structure assets across Victoria. He led the development of the current Australian Bridge Design Code for 5 years and is recognised internationally for his research and practice in bridge asset management.
ALEX ALDANA
PROFESSIONAL ENGINEER – FUTURE TRANSPORT INFRASTRUCTURE
Alex joined the Australian Road Research Board (ARRB) in July 2016. He graduated from the University of Southern Queensland with a Master of Engineering Science (Civil Engineering) in 2015. Prior to this, he completed a Bachelor of Civil Engineering (Universidad del Norte, Colombia, 2010), and Advance Diploma in Management (ACTB, Australia, 2012), and worked in the maintenance process and asset management on a National Highway (Route 90A) in Colombia. During his time with ARRB, Alex has worked on a wide range of Level 1, 2 and 3 inspection projects for local councils providing advise on bridges maintenance prioritisation.

WHO SHOULD ATTEND
The workshop is primarily aimed at, but not limited to:
Road and bridge maintenance field staff

Existing Level 1 and 2 Inspectors

Leading hands

Works Supervisors

Inspectors

Engineers

Consultants

Contractors
It will be beneficial for attendees to have a basic knowledge of bridges and culverts.


KNOWLEDGE TRANSFER ACCREDITATION

This workshop provides the underpinning knowledge to align with nationally recognised units of competency from the Certificate IV in Civil Construction Supervision as well as other civil construction qualifications. A formal assessment pathway is available for participants looking to achieve a competency outcome from this training. Attending this workshop along with formal assessments undertaken both during and after the workshop, will be used to provide the underpinning knowledge you will need to complete the assessment tasks for this skill set. The skills set comprises the following units of competency:

RIICSG405D: Carry out inspections of civil structures
RIIIMG301D: Maintain site records
RIIRIS301D: Apply risk management processes

Many road authorities require bridge inspectors to undergo additional internal training before being allowed to lead level 2 inspections for their agency. The internal training usually includes organisational policy, systems and procedures and industry best practice. For instance, in Victoria, VicRoads now recognises the ARRB Bridge Inspection Level 2 course as a prerequisite to inspect VicRoads structures.

ARRB is working towards gaining recognition by other road authorities Australia wide.

How long do I have to complete accreditation?

Start Date:
Start the day after your workshop

Duration and guidelines:
Our best advice would be to complete the accreditation assignment within 6 months of the training whilst the learning is fresh. We will allow up to 12 months, after which you will no longer be able to seek accreditation.

You will need to set aside approximately 30 hours to complete the assignment.

Whilst we guide and nurture our students towards a satisfactory assessment outcome, we can only support 3 resubmissions of the assignments before an extra charge will be incurred to cover our costs.