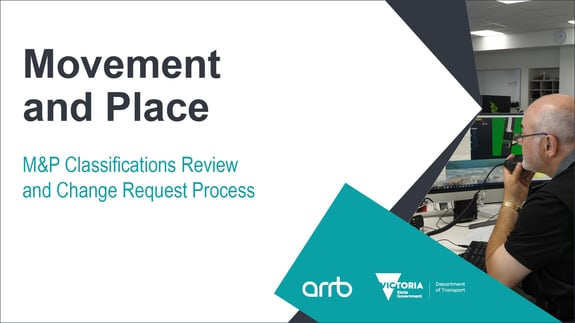 MOVEMENT & PLACE
M&P Classifications Review and Change Request Process
Specifically designed for Victorian Local Governments
Course Information
The aim of this course is to learn how the Department of Transport translates high level transport and land-use plans and strategies into projects and operations on the transport network.
The M&P framework enables complex network challenges and competing demands to be assessed at strategic and
project levels.
As a result of completing this course, practitioners and decision makers will have confidence applying the M&P framework to consider movement, place, safety and environmental outcomes when making decisions on our transport network.
Workshop Information
Workshop Date: 28 July
Time: 9.30am – 2.30pm
Duration: 5hrs
Location: Online Workshop
Cost: $475 + GST
Who Should Attend

Local government personnel:


Engineers, strategic planners, traffic managers, urban designers
Executives, Managers and Team Leaders
Outline
Overview of the M&P Framework (Modules 1 – 4)
Deep dive into M&P Network Classifications (Module 1); the future strategic vision for the network
Hands-on example of the M&P Classification Change Request tools and processes.
Learning Outcomes
At the end of this course participants will:
Understand the M&P Framework and its four modules
Understand M&P network classifications (Module 1) and use these to determine the strategic function and importance of different transport modes, place, safety and environment on the transport network.
Understand the LGA M&P Classification Review and Change Request process and learn how to use the resources and tools to submit M&P Classification Change Requests.
Name: Mark O Reilly
Email: mark.o'reilly@roads.vic.gov.au
Phone Number: 0412 867 753
For more information vicroads.vic.gov.au
Name: Daniel Mustata
Email: daniel.mustata@roadsolutions.com.au
Phone Number: 0431 202 164
For more information vicroads.vic.gov.au
*Dates and prices are subject to change.