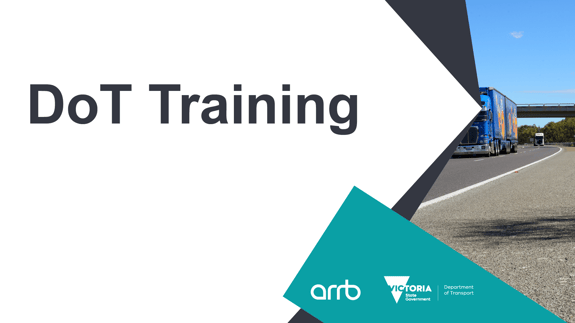 Overview of training
The Australian Road Research Board (ARRB), Trafficworks and Road Solutions have been engaged by The Department of Transport – Victoria (DoT) to be licenced training providers delivering VicRoads and DoT accredited technical training.

Training Courses
All Training Courses will be held at the ARRB national headquarters unless otherwise noted:
Workshop Information
Workshop Date: May 18, 20, 25, 27 and June 1 & 3
Time: 10am - 12pm
Duration: Two hours
Location: Online
Cost: $2,200 +GST
Course Information

The aim of this course is to assess network challenges, its competing demands and help practitioners and decision makers to consider movement, place, safety and environmental outcomes when making decisions on our transport network. These decisions will translate high level strategies and plans into projects and operations.
Learning Outcomes
According to the training Module undertaken, at the end of this course the participants should be able to understand the strategic and / or project outcome of a M&P assessment.
Understand and apply network classification and how the priority of different transport modes, place, safety and environment is established.
Understand and apply network performance and how different existing transport mode, place, safety and environment are measured. Participants will be able to understand and asses performance gaps between the desired state and existing performance.
Understand and apply how to identify project or operational objectives and potential options. The objectives consider the network and local context and performance gaps identified in module 2. The process for developing potential options is informed by standards, available road and street types guides, design guides and the range of potential interventions.
Understand and apply how to assess the impact of an option on the desired network state.
Name: Daniel Mustata
Email: danielmustata@roadsolutions.com.au
Phone Number: 0431 202 164
For more information vicroads.vic.gov.au
*Dates and prices are subject to change.