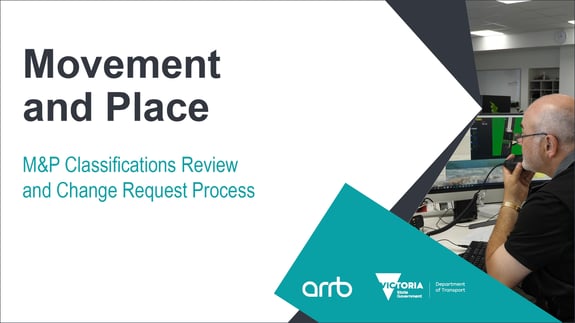 Overview of training
The Australian Road Research Board (ARRB), Trafficworks and Road Solutions have been engaged by The Department of Transport – Victoria (DoT) to be licenced training providers delivering VicRoads and DoT accredited technical training.

Training Courses
All Training Courses will be held at the ARRB national headquarters unless otherwise noted:
Workshop Information
Workshop Date: May 12
Time: 9.30am – 2pm
Duration: 4.5 hours
Location: Online
Cost: $475 +GST
This course is for local government personnel only.
Course Information

The aim of this course is to learn how the Department of Transport translates high-level transport and land-use plans and strategies into projects and operations on the transport network.
The M&P framework enables complex network challenges and competing demands to be assessed at strategic and project levels.
As a result of completing this course, practitioners and decision-makers will have confidence applying the M&P framework to consider movement, place, safety and environmental outcomes when making decisions on our transport network.
Learning Outcomes
At the end of this course participants will:
Understand the M&P Framework and its four modules.
Understand M&P network classifications (Module 1) and use these to determine the strategic function and importance of different transport modes, place, safety and environment on the transport network.
Understand the LGA M&P Classification Review and Change Request process and learn how to use the resources and tools to submit M&P Classification Change Requests.
Who Should Attend
Local government personnel:
Engineers, strategic planners, traffic managers, urban designers.
Executives, Managers and Team Leaders.
Cost: $475 + GST
Name: Daniel Mustata
Email: danielmustata@roadsolutions.com.au
Phone Number: 0431 202 164
For more information vicroads.vic.gov.au
*Dates and prices are subject to change.