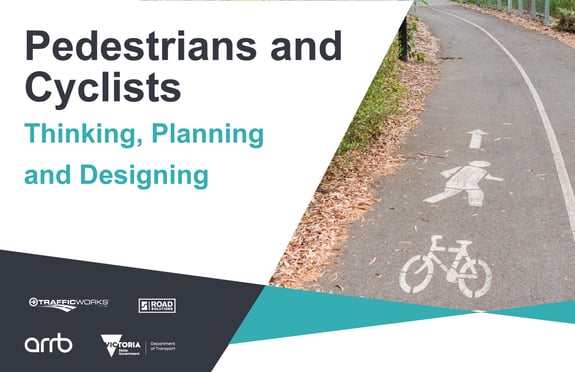 Overview of training
The Australian Road Research Board (ARRB), Trafficworks and Road Solutions have been engaged by The Department of Transport – Victoria (DoT) to be licenced training providers delivering VicRoads and DoT accredited technical training.

Training Courses
Workshop Information
Workshop Dates: 15th-17th November
Time: 8:30am - 5pm
Location: National Transport Research Centre, Port Melbourne
Cost: Day 1: $1,000 + GST, Days 2 - 3: $2,000 + GST, Days 1 - 3: $3,000 + GST
Pedestrians & Cyclists – Thinking, Planning and Designing

This course aims to help managers, planners, practitioners, engineers and other interested professionals improve outcomes for pedestrians and cyclists.
The main objectives of the course are to inform of the latest policies, decision-making frameworks and methodologies (day 1), provide detailed advice on planning and design practices for pedestrians and cyclists and advise on systemic actions to further include pedestrians and cyclists in our transport system (day 2 - 3).
Learning Outcomes
By the end of the course, participants will be equipped with an in-depth and intimate knowledge of best practice thinking, planning and designing for pedestrians and cyclists.
Participants will acquire the required capability to further include walking and cycling in their day-to-day work, and ensure pedestrians and cyclists are catered for in our transport system.
Finally, participants will gain a thorough understanding of the available resources and tools to help them in their work and will meet a network of walking and cycling experts upon which they can draw in future.
*Dates and prices are subject to change.