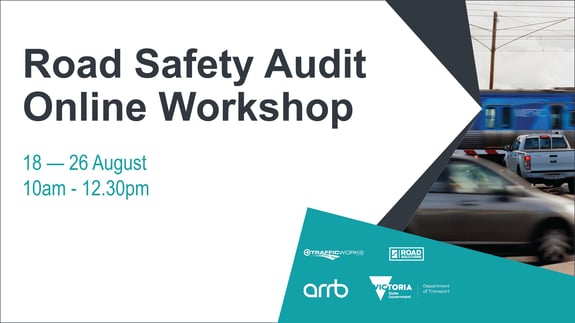 Overview of training
The Australian Road Research Board (ARRB), Trafficworks and Road Solutions have been engaged by The Department of Transport – Victoria (DoT) to be licenced training providers delivering VicRoads and DoT accredited technical training.

Online Training
All training courses will be held online – video conference version which will include:
Times: 10am - 12:30pm
4 x 2.5 hour LIVE presentations and discussions
Dates: 18th August
19th August
25th August
26th August

Cost: $1,750 +GST
Course Information

This road safety audit training is the only Department of Transport (DoT) accredited training. Attendance at this course is required to become a DoT accredited Road Safety Auditor.
The aim of the road safety audit course is to introduce and explain the road safety audit process. The course includes the updated Austroads Guide to Road Safety Part 6 & 6A. The course includes guidance on Safe System Principles, and an explanation of the differences between Safe System Assessments and Road Safety Audits.
Attendance at this course provides a certificate for registration as a DoT / VicRoads accredited road safety auditor.
Learning Outcomes
At the end of the training participants will be able to confidently engage road safety auditors to audit their project, and begin to undertake road safety audits with senior road safety auditors.
Who Should Attend
State and Local government personnel
Engineers, designers, traffic managers, traffic controllers
Road safety practitioners.
Requirements
The video conferencing platform (e.g. ZOOM, Skype, etc.) will be communicated well before the training. If any participants have any constraints in relation to any video conferencing platforms, please inform the organisers.
You will require a personal computer i.e mobile phone only won't be suitable.


Cost: $1,750 + GST
Name: Kate Kennedy
Email: kate.kennedy@trafficworks.com.au
Phone Number: 03 9490 5902
For more information vicroads.vic.gov.au
*Dates and prices are subject to change.