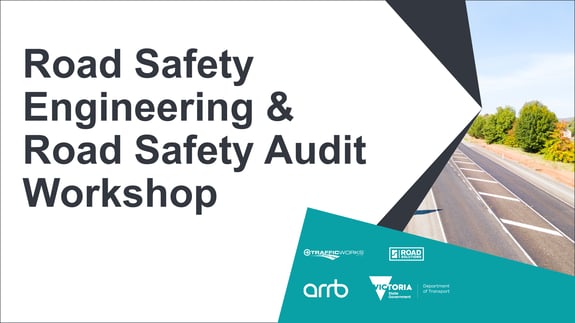 Overview of training
The Australian Road Research Board (ARRB), Trafficworks and Road Solutions have been engaged by The Department of Transport – Victoria (DoT) to be licenced training providers delivering VicRoads and DoT accredited technical training.

Training Courses
All Training Courses will be held at the ARRB national headquarters unless otherwise noted:
Workshop Information
Workshop Date: November 15-19
Time: 8.30am – 5.30pm
Duration: 5 Full Days
Location: Port Melbourne
Cost: Days 1 – 5: $4,000, Days 1, 2 & 3: $2,500, Days 4-5: $1,750
Road Safety Engineering & Road Safety Audit

The aim of this course is to understand road safety engineering best practice, learn how to analyse crash data and undertake crash investigations, develop solutions for high risk locations, and how to manage roadside hazards (Days 1 – 3).
The aim of the road safety audit course is to introduce and explain the road safety audit process. The course includes the updated Austroads Guide to Road Safety Part 6 & 6A. The course includes guidance on Safe System Principles, and an explanation of the differences between Safe System Assessments and Road Safety Audits (Days 4 - 5).
Attendance at this course provides a certificate for registration as a DoT / VicRoads accredited road safety auditor.
Learning Outcomes
At the end of this course, participants should be able to analyse crash data and develop solutions for high risk locations.
At the end of the training participants will be able to confidently engage road safety auditors to audit their project, and begin to undertake road safety audits with senior road safety auditors.
*Dates and prices are subject to change.