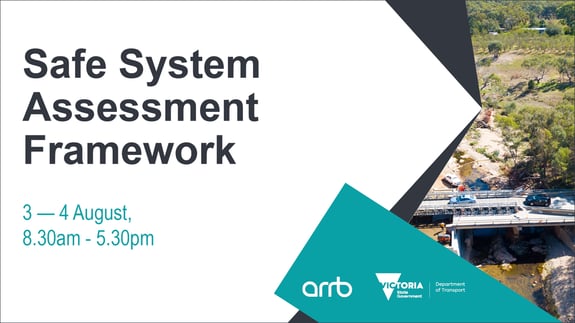 Overview of training
The Australian Road Research Board (ARRB), Trafficworks and Road Solutions have been engaged by The Department of Transport – Victoria (DoT) to be licenced training providers delivering VicRoads and DoT accredited technical training.

Training Courses
All training courses will be held at the ARRB national headquarters unless otherwise noted:
Date: August 3rd - 4th, 2021
Time: 8.30am – 5.30pm
Duration: 2 days
Location: National Transport Research Centre
80a Turner St, Port Melbourne
Cost: $2,200 + GST
Course Information

The Safe System approach involves all aspects of the road system working together to help eliminate death and serious injury. A key objective for road managers is to ensure that when driver errors do occur, they do not result in high severity outcomes. The Safe System Assessment Framework (SSAF) is gaining momentum in industry for assessing how closely road design and operation aligns with the Safe System objectives and clarifying which elements can be modified to achieve safer outcomes.
The aim of the framework is to embed Safe System thinking and evaluation from the commencement of a road project. The course will introduce practitioners to the key elements of the Safe System Assessment Framework and will demonstrate how the framework is applied to achieve tangible outcomes. Participation in this course will contribute to the National aim of reducing deaths and injuries on Australian roads to half by 2030 and to zero by 2050.
Learning Outcomes
The SSAF approach involves identifying 7 key crash types that result in death and serious injury: 1) run-off-road, 2) head-on, 3) intersection, 4) other (including rear end), 5) pedestrian, 6) cyclist and 7) motorcyclist. Using a risk assessment approach, elements are identified that might contribute to severe outcomes. The risk elements considered include road user exposure to risk (e.g. traffic volumes), likelihood of a crash, and the expected severity outcome in the event of a crash.
The framework includes an assessment of infrastructure-related issues (the road environment and travel speeds). It also ensures consideration of the other pillars - road users, vehicles and post-crash care.
*Dates and prices are subject to change.