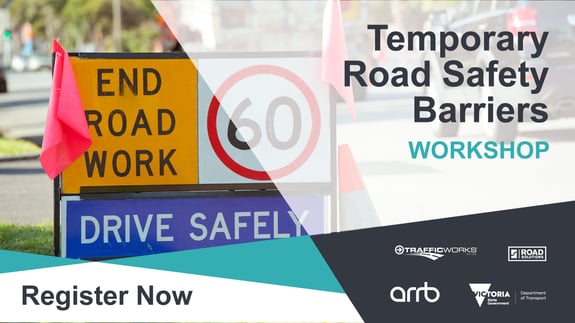 Overview of training
The Australian Road Research Board (ARRB), Trafficworks and Road Solutions have been engaged by The Department of Transport – Victoria (DoT) to be licenced training providers delivering VicRoads and DoT accredited technical training.


Training Courses

Workshop Information
Workshop Date: November 23
Time: 8:30am - 5pm
Duration: 1 day
Location: National Transport Research Centre, Port Melbourne
Cost: $1,000 + GST

Course Information


The aim of this course is to provide participants with the knowledge and skills to select, install, and maintain temporary road safety barrier systems for roadworks. The course provides best practice and up to date advice about approved products.


Learning Outcomes


At the end of this course the participant should be able to:
Explain the basic principles of temporary road safety barrier systems and suitable applications
Identify the different types of compliant barriers and when they are used
Interpret and consider the manufacturers specifications and other requirements when selecting, designing, implementing and auditing temporary road safety barrier systems at roadwork sites
Identify suitable inclusions of a risk assessment that accompanies the selection, design, implementation and auditing of a temporary road safety barrier system and develop practical mitigation strategies
Minimise risk to the public and workers at roadworks sites using temporary road safety barrier systems
State the contractual and moral obligations.
*Dates and prices are subject to change.