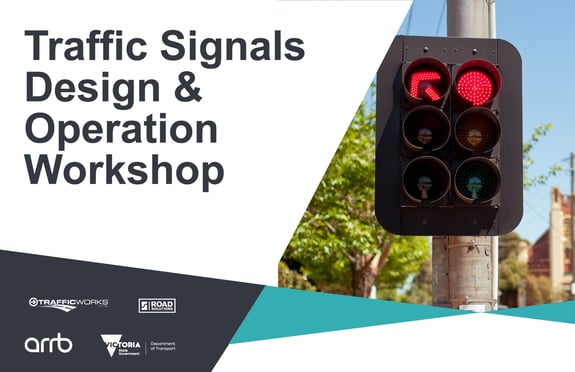 Overview of training
The Australian Road Research Board (ARRB), Trafficworks and Road Solutions have been engaged by The Department of Transport – Victoria (DoT) to be licenced training providers delivering VicRoads and DoT accredited technical training.

Training Courses
All Training Courses will be held at the ARRB national headquarters unless otherwise noted:
Workshop Information
Workshop Date: May 17 - 18
Time: 8.30am – 5.30pm
Duration: 2 days
Location: National Transport Research Centre, Port Melbourne
Cost: $2,000 + GST
Traffic Signals Design & Operation Workshop

The aim of this course is to introduce the principles of best practice traffic signal design and operation. The course will include:
Fundamentals of traffic signal analysis
Traffic signal layouts – geometric elements, location of signal equipment, signal phasing
Operational design – signal group allocation, detector map, signal phasing, phase diagrams and control of right turns
Operational design – detector functions, intergreen time and pedestrians
Introduction to signal operations and signal coordination, including SCATS.
Learning Outcomes
At the end of this course the learner should be able to:
Undertake first principles analysis of signalised intersections
Understand how to interpret traffic signal layouts and the fundamentals associated with their preparation
Understand the complexities and features within the operational design (Operation Sheets) of signalised intersections, including signal phasing and operational time settings
Understand how and why the Sydney coordinated adaptive traffic system (SCATS) is used by the Department of Transport to manage the traffic signal network.
*Dates and prices are subject to change.