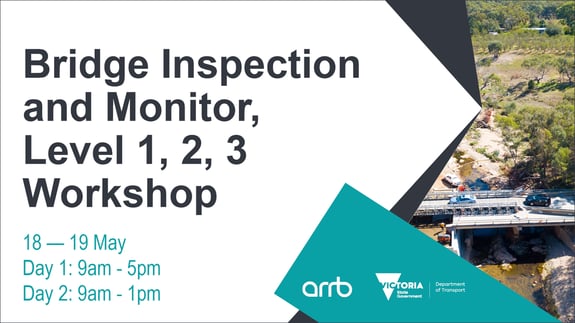 Overview of training
The Australian Road Research Board (ARRB), Trafficworks and Road Solutions have been engaged by The Department of Transport – Victoria (DoT) to be licenced training providers delivering VicRoads and DoT accredited technical training.

Training Courses
All Training Courses will be held at the ARRB national headquarters unless otherwise noted:
Workshop Information
Workshop Dates: May 18 - 19
Time: Day 1: 9am – 5pm, Day 2: 9am - 1pm
Duration: 1.5 days
Location: National Transport Research Centre, Port Melbourne
Cost: $1,600 + GST
Course Information

This course aims to provide an introduction to, and awareness of, bridge inspections levels (Level 1, 2 and 3) and the monitoring process. The course will provide each participant with a general understanding of bridge inspections and its importance as part of the asset management process.
Learning Outcomes

At the end of this course, participants will be able to:
Identify the difference in scope between Level 1, Level 2 and Level 3 bridge inspections and monitoring inspections.
Understand the scope and limitations for each inspection level.
Understand the importance of accurate data capture with a methodical system that supports infrastructure assets management and decision making.
*Dates and prices are subject to change.