In order to better serve its members, the Australian Road Research Board (ARRB) acquired an Intelligent Pavement Assessment Vehicle (iPAVe) to provide pavement strength testing. The unit was the 8th delivery of a Traffic Speed Deflectometer (TSD) in the world with previous systems operating in Denmark, UK, Italy, Poland, China and the USA.
ARRB's iPAVe was fitted with the Hawkeye suite of survey equipment, making it the first fully integrated road surface and sub-surface condition assessment system in the world.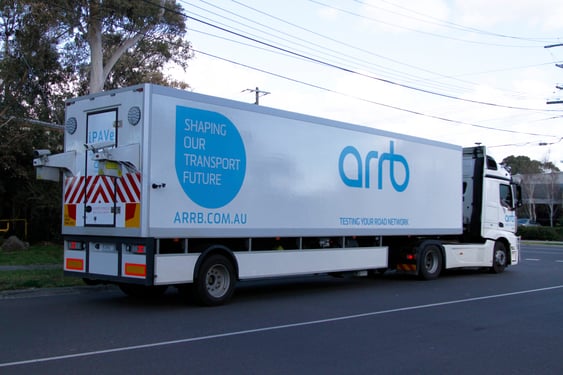 This system utilises Doppler lasers to monitor the response of a pavement to the application of a mass. Data provided includes continuous pavement deflection profiles, from which bearing capacity indices can be derived and pavement fatigue estimated. The high accuracy and resolution of the iPAVe enables engineers to pin-point areas where the pavement may be subject to failure.
Benefits:
Collects pavement condition and structural parameters in one pass
Ability to operate at traffic speed
Increased operator and road user safety
More data measurements than traditional methods (i.e. FWD)
More cost efficient as no traffic control is required
More flexibility in survey planning and network coverage
Hawkeye Integration
The TSD, manufactured by Danish company Greenwood Engineering, has been fully integrated into ARRB's Hawkeye platform.
Additional Hawkeye sensors are fitted to the iPAVe for measuring roughness, rutting, texture and automated cracking. Several cameras can also be mounted to collect asset and pavement imagery. The Hawkeye Platform, ARRB's unique acquisition, processing and viewing software, fully synchronises all data streams ensuring structural and surface condition measurements are time-stamped and measured simultaneously.
Hawkeye has been integrated into a number of iPAVe's, for companies based around the world, including China, South Africa and the USA.
iPAVe Gallery
Coming soon!