Last week in Brisbane I had the privilege of attending the ARRB 2018 International Conference with amazing keynote speakers, the launch of ARRB's new brand, wide-ranging subject matter and a good deal of attention from the media. This year's Conference also represented a milestone, with ARRB re-emerging as Australia's thought leader in road transport infrastructure and technology. What are the unique qualities and capabilities that underpin the new ARRB?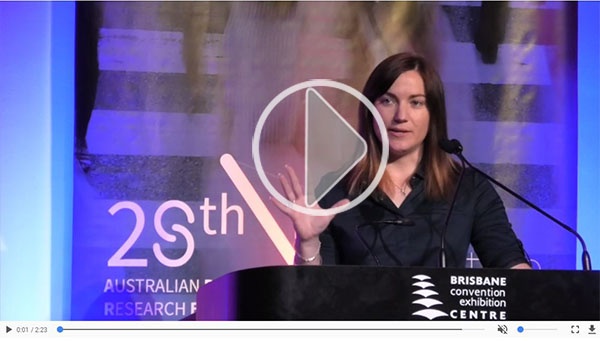 2018 Arrb Conference Recap
In 2018, ARRB is an organisation excited by connectivity, collaboration and innovation, committed to bringing global technical knowledge and thought leadership to Australia.
Olympic Gold Medal-winning cyclist Anna Meares opened proceedings with one of the most inspiring keynote addresses many of us had seen. Sharing her story of hard work, determination and triumph over almost impossible odds, Anna set the scene by highlighting one of the great truths in any high-performance field of human endeavour. No matter how talented and motivated, you cannot achieve your goals alone.
It takes a motivated team to achieve great things.

400+ attendees for the ARRB Conference
With that message ringing in our ears, the four-hundred-plus attendees got down to business. An impressive list of local and international keynote speakers set the agenda and guided us through what it takes to establish lasting, sustainable technological innovation in Australia's largest transportation network carrying almost every Australian, every day.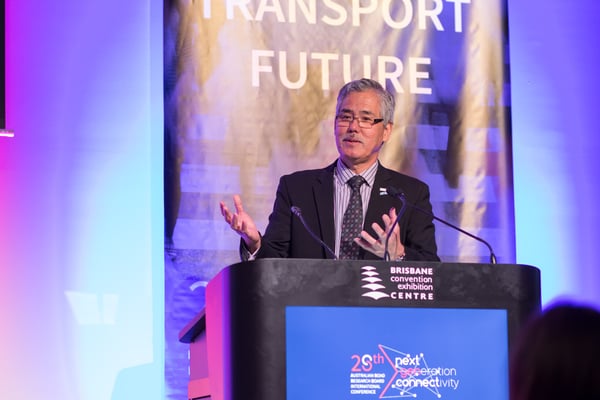 Randy Iwaski | Keynote Speaker for the ARRB Conference
Randell "Randy" Iwasaki, Executive Director of Contra Costa Transportation Authority in California delivered a reality check for connected, automated vehicles in Australia. Randy shared his experience running America's largest Connected Automated Vehicle (CAV) testing ground, on the decommissioned Concord Naval Base in Contra Costa County, CA (backed by US$300 million in government and private funding).
Randy's message was simple: Australia needs to make a serious, coordinated investment in a testing bed for autonomous vehicles to avoid becoming a dumping-ground for old vehicle technology and transport infrastructure. Because once we are disconnected from next generation connectivity it will be much more difficult to get back on the same page.
Acknowledging the great work being done by scientists and technicians around Australia, Randy called for a coordinated effort across the nation, under the umbrella of an organisation such as the Australian Automated Vehicles Initiative.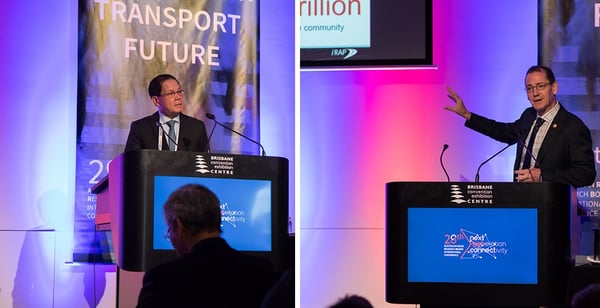 Keynote Speakers Romeo Momo and Rob McInerney for the ARRB Conference
Among more than 17 featured speakers, other highlights included Neil Scales OBE, DG, Queensland TMR; Futureye's Managing Director Katherine The-White; Rob Wallis, CEO of the UK's Transport Research Laboratory; and Matthew Rivett, Executive Vice President of innovative US-based car manufacturer Local Motors.
The agenda spanned broad range of subjects from pavement engineering and intelligent roads to asset data measurement; smart journeys; disruptive technologies, platforms and services; human factors of transport; building road safety; and sustainability and resilience.