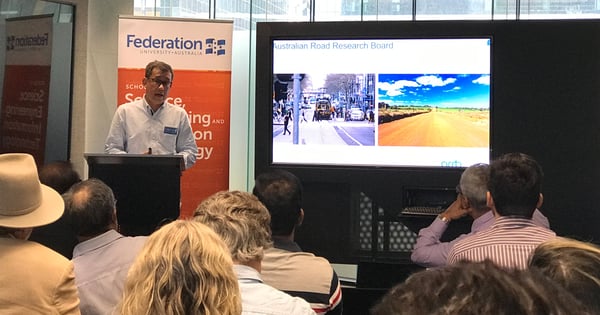 Every person and every business will feel the impact of the Internet of Things (IoT). It is anticipated that by 2025 the number of IoT devices will grow globally to over 100 billion.
ARRB recently presented its expertise on the IoT in Intelligent Transport Systems (ITS) at a prestigious event in Melbourne.
Dr Charles Karl, Principal Technology Leader, Future Transport Technology at your National Transport Research Organisation, was invited to present his keynote speech to a sold out audience at the Colloquium on IoT in Industrial and Energy Systems Sustainability in December.
The event, which was organised by Federation University, IEEE Computational Intelligence Society and IEEE Victoria Section, was held at the Goods Shed North, CSIRO.
With the recent wave of disruptive technologies, the deployment of the IoT is becoming ubiquitous, ranging from common home and personal appliances, commercial to industrial to sophisticated safety-critical systems, such as pervasive healthcare, driverless vehicles and energy systems.
The colloquium honed in on the impact of IoT on domains such as energy and transport and how these new sources of data will increasingly deliver new ways to deliver mobility outcomes as well as increase productivity, safety and sustainability.
"It was great to be a part of an event which was aimed at promoting collaboration and mutual exchange of knowledge between industry and researchers in the area of IoT-based solutions for industrial and energy sustainability." said Dr Karl.