ARRB has strengthened the independence of its board by appointing three new members, who bring extensive and diverse experience to the National Transport Research Organisation.
Louise McCormick, Dr Vicki Gardiner and Sandra Dodds have all joined the ARRB Board.
Louise is the General Manager for Transport and Civil Services within the Northern Territory Department of Infrastructure, Planning and Logistics.
She is a senior civil/structural engineer with 20 years' experience in both public and private sectors.
Vicki is a chartered chemist who has substantial experience in leadership, management and boards across industry sectors, including academia, government, private industry and not-for-profit. Vicki is currently the Director of Policy & Research at Medicines Australia.
She has influenced government policy in innovation, energy, diversity and workforce development, including through submissions to legislative reviews.
Prior to becoming a Non Executive Director, Sandra was Chief Executive for urban infrastructure at Broadspectrum Ltd, where she was responsible for their power, water and telecommunications businesses in Australasia.
In addition to the ARRB board, Sandra is a member of the Infrastructure Partnerships Australia board and will join the Snowy Hydro Ltd Board in July 2019. Sandra has worked in the private sector for over 25 years and has diverse and extensive experience at an executive level in operations, finance, mergers and acquisitions.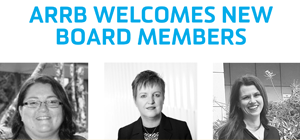 Board chair Peter Duncan AM says the new appointments strengthen both the ARRB Board's independence and its diversity.
"We have strong diversity on the board, and also independence with four of our eight board members now independents," he says.
"In Louise, Sandra and Vicki we are delighted to have these three people join the ARRB board with such a diverse background in policy, research, infrastructure and engineering fields.
"Vicki's background and also most recently with Engineers Australia brings broad executive level policy experience to the board.
"Sandra has had a strong career in the private sector and brings extensive board experience which includes having recently been a member of the Roads Australia board and numerous other boards, bringing great corporate and governance skills to our board.
"Louise has a strong perspective of a diverse government agency in the Northern Territory, and brings the important view of the infrastructure challenges of remote and regional areas."
They join Peter Duncan AM, Queensland Transport and Main Roads Director-General Neil Scales OBE, Main Roads Western Australia General Manager Peter Woronzow, the New Zealand Transport Agency's Kevin Reid and Transport for NSW's Stephen Troughton on the ARRB Board.
ARRB Chief Financial Officer Kate Thomson is Company Secretary.
You can find more information on ARRB's Board here