Data subjects have a right to know, access and delete every piece of data that is collected from them. As awareness around data privacy laws rises, subjects will become more aware of these rights and seek to exercise them*.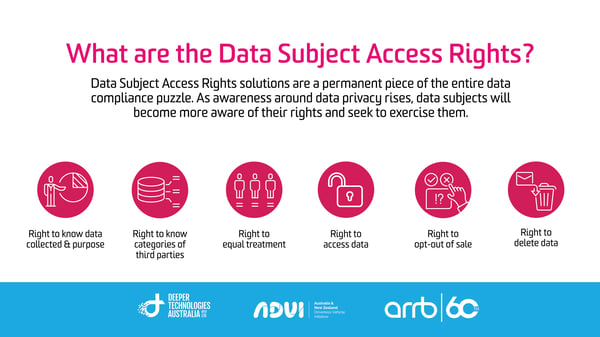 Under the terms of General Data Protection Regulation (GDPR) & California Consumer Privacy Act (CCPA), and other emerging standards, not only do organisations have to ensure that personal data is gathered legally under strict conditions, but those who collect and manage the data are obliged to protect it from misuse and exploitation, as well as to respect the rights of data owners - or face penalties for not doing so.
Click the button to download the full infographic.
Deeper Technologies Australia's vision is to help organisations stay ahead of the changing data compliance landscape by being be a world-class provider of automated data protection and privacy measurement solutions. DTA is looking for collaboration opportunities to further explore the looming requirements and potential pain points for all organisations that will feel the effects of data privacy.
For more information, click here to contact David Christmas, Founder & Managing Director of DTA.
DTA is a proud partner of The Australian & New Zealand Driverless Vehicle Initiative.
*SOURCE – IAPP - Privacy Tech Vendor Report 2020